Free Learner Support from Experts
We want our Learners to succeed. We want you to be the best ISO management system auditor you can be. Consequently, we are now providing 24/7 Learner Support to all our Learners.
That's right; without charge, All our Learners now have access to our team of expert ISO Management System Auditors. And this applies to all of our online Courses across a wide range of Standards for the duration of the Course.
Our Learners never get 'stuck' in a Lesson and are never left mystified by a concept or topic. Expert help is at hand all day, every day.
We attempt to answer every question within the hour and have set ourselves the target of providing an authoritative answer within 24 hours to even the most challenging of questions.
This kind of Technical Support is not available with conventional ISO Auditor Training – only e-learning with deGRANDSON Global - provider of ISO 21001 Certified Training.
Use the Support Ticket System to access Tutor Support
Learners can log in to our Support Ticket System (you only have to log in once) to submit your question to a Tutor. Typically, you'll get a considered response within 2 hours. It may take a little longer if you ask us a really difficult one. But we will find a suitable expert and get you an answer.
Access Support Tickets from the Menu Bar at the top of the screen for our website (www.degrandson.com) and the LMS (https://degrandson.inquisiqlms.com/v3/home).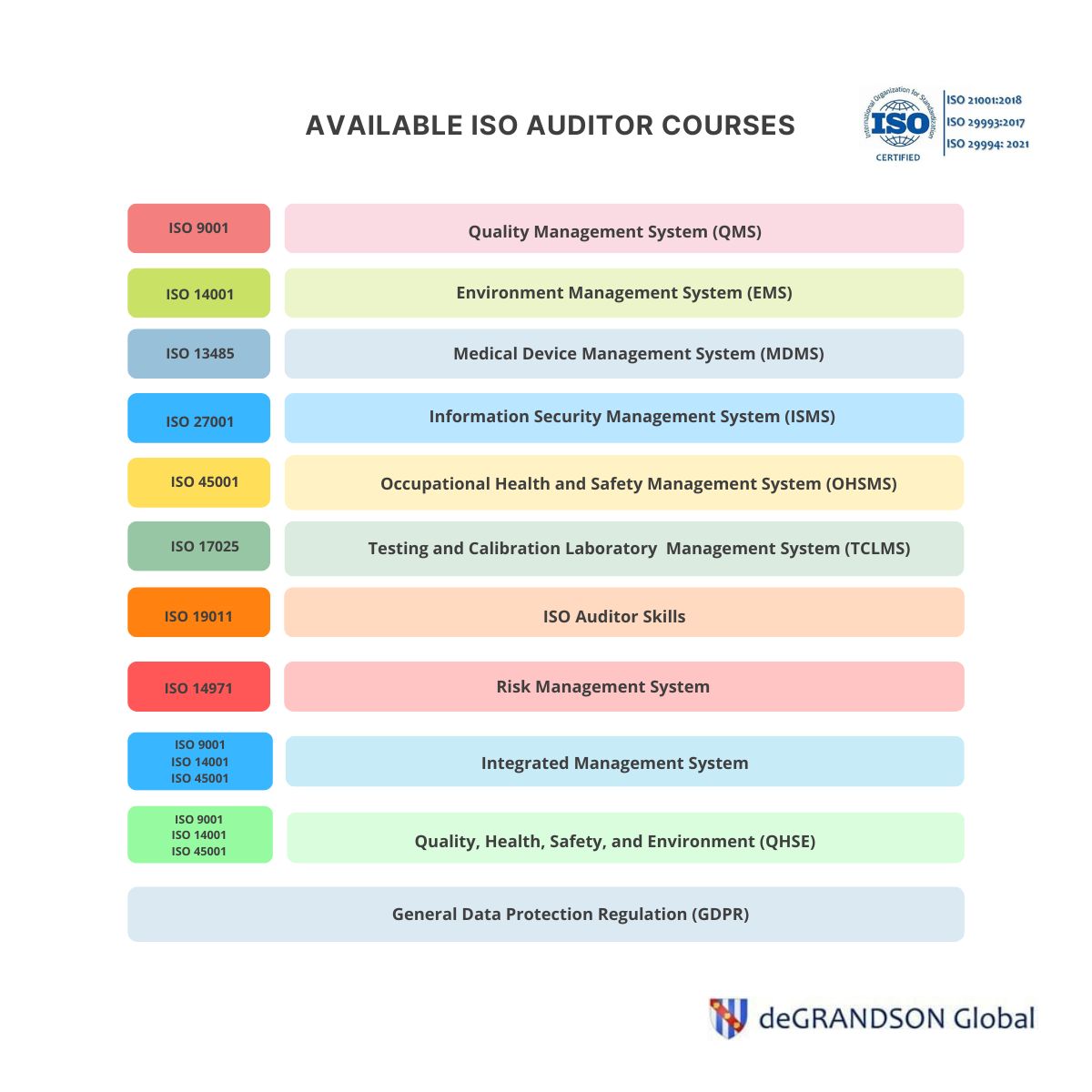 Available ISO Courses Image Map. Just click on any management system standard that you are interested in and you will be taken to their individual overview page where you can learn more about each online course.
We've got a Chat Box too
In addition to our 24/7 service by email, we also have a Messaging service on our website which our customers use mainly for questions to do with Course content, pricing and discounts.
Note: First published in Sep 2017, this post was revised and updated in Aug 2022.
Related Articles
---
deGRANDSON Global is an ISO Certified Educational Organization
In October 2021 we secured certification to three education-related ISO Standards. We now have a university-grade management system in place conforming to the requirements of …
We have chosen ISO 21001 certification because, unlike IRCA and Exemplar badges (which in our opinion are commercially compromised), it is based on independent third-party assessment. It is a 'university grade' standard in use globally by schools, colleges, and universities to demonstrate their competence.