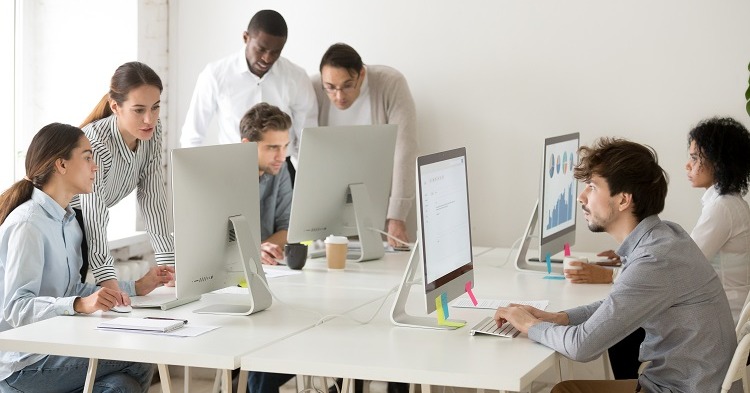 The reality behind the myths about e-Learning
There's much interest in e-learning these days, but does it work? What should you expect from a well-designed, well-developed, and well-delivered e-Learning Course? e-Learning had a bad reputation -- and it was mostly justified. Let's take some recent headline offerings ...
---
Table of Contents
---
'Live online training' and 'The Virtual Classroom'
Here we have a standard lecture where a camera is turned on with live streaming. No opportunity to ask questions or opportunity to review. Very dull with no learner engagement. We don't consider this to be e-learning.
'On Demand Lectures'
The same as Live Online Training' except that this time, they recorded it. The lack of variety in content can be very boring. Again, no learner engagement. We don't consider this to be e-learning either.
e-Learning is different
Today's online e-learning courses are usually a match for, and in some ways even superior to, conventional training. One of the main reasons for this is that they are capable of consistently delivering high-quality lessons without being dependent on a presenter or tutor. Advances in technology have allowed e-learning to grow by leaps and bounds. In this article, we will examine e-learning features, which we hope will enable you to identify 'the genuine article' when it comes to online training.
In the design and development of our online auditor training courses, we extensively researched the strengths and weaknesses of e-Learning and took cognizance of the modern understanding of Adult Education.
Whether internal auditor or lead auditor training was involved, we set out to produce attractive and engaging courses suited to the adult learner. Definitely not the traditional classroom, instructor-led approach - instead of an approach where knowledge and skills are built up, layer upon layer, almost without the Learner being consciously aware of the process.
deGRANDSON'S Four-Tier Approach to Online ISO Auditor Training
The image below illustrates the approach that deGRANDSON uses when facilitating online ISO auditor training.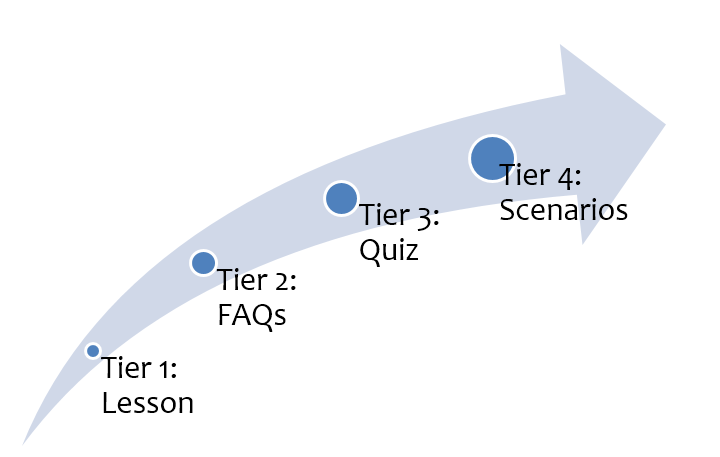 Tier 1: the Lesson
Here, you are provided with the facts, processes, and procedures included in the lesson.
Tier 2: the Frequently Asked Questions
In this Tier, you will find many 'what-if' questions to reinforce what you have learned by exploring its practical application.
Tier 3: the Quiz
This Tier further deepens your knowledge of the lesson by posing a series of questions to challenge your understanding of its content.
Tier 4: Scenarios
In this final tier, you will learn to apply the skills and knowledge you gained in the preceding three tiers. The many short- and long-term scenarios presented are unique to e-learning with deGRANDSON Global and help bridge the void between theory learned in a classroom-like situation and the practice and challenge of face-to-face auditing.
What to Expect from a Modern e-Learning Course
Before proceeding to our list of reasons why our e-learning system works, we need to state some important assumptions that are true for all of our online ISO Auditor Training Courses.
These are that ...
e-Learning courses are well-designed, developed, and delivered having regard to the needs of adult learners.
Courses are designed for delivery over a wide variety of operating systems and computing devices.
Courses are delivered via a modern learning management system (LMS), keeping detailed records of the learners' progress and results, and also capable of delivering instruction over a wide variety of operating systems and computing devices.


deGRANDSON Global's e-Learning System Features and their Benefits
#

e-Learning Feature

Benefits to Students

1
Self-paced learning

Fit the course around your busy schedule
Complete the course as time allows
Study anywhere/anytime you have broadband access – at work, at home and while travelling (with Wi-fi)

2
Inexpensive

No travel and accommodation expenses

3
Use in Training Room environment

In any training room with internet access you can enjoy the benefits of a disciplined approach – set a schedule to ensure learners devote uninterrupted, quality time to their auditor training

4
Certification (individuals)

In job transition? Differentiate yourself in a competitive job market.
Get immediate results in terms of job promotions, higher salaries, and new job opportunities.
Invest in your career/expertise and demand 'top dollar'.
Earn a promotion.
Achieve increased proficiency.
Demonstrate professional and personal accomplishments.

5
Certification (employers)

Employees perfect and share new techniques and emerging technologies with their peers.
Knowledgeable employees assure product and service quality.
Certified employees indicate organizational excellence.

6
Certification (Certification Bodies)

Objective evidence of aptitude, expertise, and skills of candidate auditors
Compliance with the requirements of ISO 17021:2015
Just add auditing experience to demonstrate full competence
Avoid unnecessary training costs

7
Web-based Product – platform-independent

Accessible worldwide on the internet
Platform independent – any Windows or Apple OS on any PC Workstation or other desktop, notebook, tablet or other handheld devices with access to the internet - can access all features.

8
Scalable Certification
9
Extension Courses

Need to add new Standards to your skillset? With e-learning, you have options you can customize to suit your individual needs.
No need to take standard courses that likely include much that you don't need or already know.

10
Re-Certification Courses

As and when new versions of the Standards covered by your Scope are published, we will offer you an upgrade Conversion Course and, upon successful completion, an Auditor Certificate against the new Standard.

11
The Scenarios

Not practical with conventional courses - no time.
Experienced auditors will tell you that it is only by practicing your audit skills that you really understand how to interpret and apply the Standard's requirements.
And here, these audit experiences are built into your Course.

12
No software installation needed

The need to download software has been an IT Security concern previously. But no more.
You can log into your course on any internet browser (Chrome, Edge, Firefox, etc.). And so anytime, anywhere, when you have some quiet time, you can use your PC, Notebook, Tablet or similar device to continue your e-learning course.
#

e-Learning Feature

Benefits to Students

13
Courses published in both SWF and HTML formats

During a Lesson, you can switch from one device to another.

Say you start a Lesson on your PC at work. You can continue the Lesson, from where you stopped, on a tablet device on the bus or train home, and then finish it on your Notebook after dinner.

Much of that flexibility would be lost, especially for older devices, if we published in html5 alone.

14
30 plus Lessons per Course

Having compact lesson sizes (typically 15 to 30 minutes), minimizes download size for speedier service, even if you have poor broadband speeds.

15
Pay through PayPal

All financial transactions are processed through PayPal –

credit and debit cards as well as PayPal accounts

– for total security. Only the PayPal service knows your financial details
We also accept payment via Strips and other popular payment methods.

16

Experiential learning

Adults learn best by experiencing and understanding the significance of what they are learning. This is the approach we use for all of our Courses.

17
Multi-layered approach

You build up your knowledge and skill progressively, layer upon layer, as you go through the Course. For you, a more rewarding experience for the effort you put in.

18
Plenty of practical exercises

With many scenarios and opportunities to generate findings and professionally write non-conformance/ non-compliance, you get practical experience in the application of the skills and knowledge you have acquired.

19

Connected to

Facebook

and

LinkedIn

See what others have had to say about our courses on our social media sites.

20
Courses delivered through established LMS service

We use an award-winning LMS service to deliver our courses for uninterrupted availability worldwide.

21
e-Learning is now mature

Having learned of the challenges that early students of our e-learning courses have encountered has allowed us to refine our structure and content to a much higher professional standard.

22
Delivery at a time and place of your choosing

Our courses can be delivered in a formal training environment (your company training room) or can be taken as a self-study course as and when time and other resources allow.

23
No examination charges

Applies to all of our courses incorporate certification examinations. There is no additional charge for either the Examinations or for the Certificates.

24
No examination deadlines

You don't have to wait for fixed examination dates
Take the exams at the end of each course module.

Get your Certificate immediately upon successful completion – No Waiting!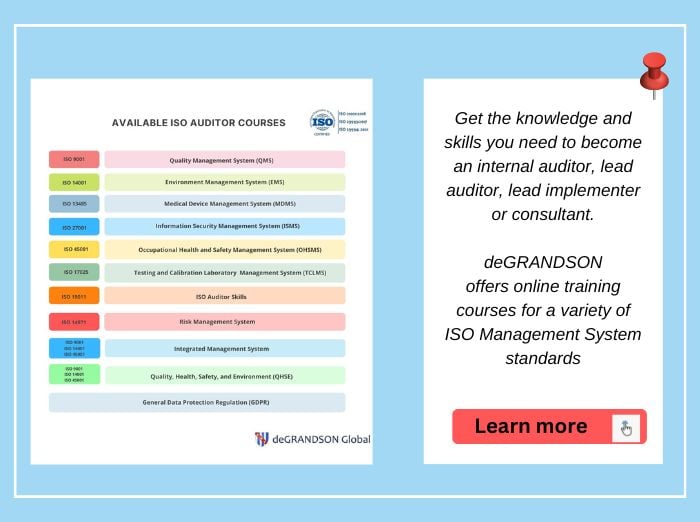 Click on the image thumbnail to see the image in full size, or click the button on the other side to go to our ISO auditor overview page to learn more about our courses.
Note 2: First published in September 2018; revised and updated in December 2022
Related Articles
---
deGRANDSON Global is an ISO Certified Educational Organization
In October 2021, we secured certification to three education-related ISO Standards. We now have a university-grade management system in place conforming to the requirements of …
We have chosen ISO 21001 certification because, unlike IRCA and Exemplar badges (which, in our opinion, are commercially compromised), it is based on independent third-party assessment. It is a 'university grade' standard in use globally by schools, colleges, and universities to demonstrate their competence.