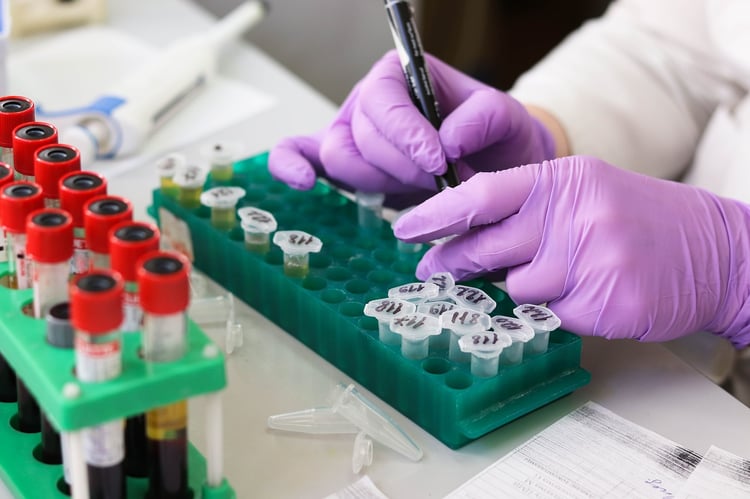 This Standard is a little different, starting with its structure. So, what's the story?
We've gathered in this post all the commonly asked questions about ISO 17025 accreditation together with expert answers. Just click on the question you are interested in to head to the answer directly.
---
What is ISO 17025?
ISO 17025 (or to give it its full title ISO 17025:2017 General Requirements for the Competence of Testing and Calibration Laboratories) is an internationally-recognized standard that sets out the requirement for a Testing and Calibration Laboratory Management System (TCLMS). This standard is the revision of the previous ISO/IEC 17025:2005 version.
The ISO 17025 standard lays out the general requirements for proving the competence, impartiality, and consistent operations of laboratories that perform testing, sampling, and calibration.

Its guidelines apply to all types of laboratories -- both private and public -- and include a wide range of organizations from academic institutions to research centers, and government regulators.
What is ISO?
The International Organization for Standardization, commonly known as ISO, is the world's largest developer of voluntary International Standards. Their collection of 21,000+ standards offers solutions and best practice guidance for all types of technology and business, helping companies and organizations to increase performance while protecting consumers and the planet.
While mostly product and technical standards, the ISO has developed 40+ management system standards. The best known of these include ISO 9001 (quality), ISO 14001 (environment), ISO 45001 (Health & Safety) and ISO 27001 (information security management). The feature they all have in common is that they are auditable, that is, they are written to facilitate auditing by an independent third party (e.g., CAB) to confirm compliance with the standards' requirements.
For more visit ISO 45001 on the ISO website.
What is the Purpose of ISO 17025?
The purpose of the Standard is to specify the general requirements for the competence, impartiality and consistent operation of laboratories. It enables laboratories to demonstrate that they operate competently and generate valid results, thereby promoting confidence in their work both nationally and around the world. Test reports and certificates can be accepted from one country to another without the need for further testing, which, in turn, reduces costly duplication of effort and improves international trade.
For more see the ISO publication ISO/IEC 17025 Testing and Calibration Laboratories.
What is ISO 17025 Accreditation and the Scope of that accreditation?
Certification to ISO 17025 by a Certification Body is not possible as the assessment of laboratory management systems is exclusively in the hands of national accreditation bodies. From such national accreditation bodies, like UKAS, INAB, RvA and ANAB, one receives accreditation and not certification. Different titles but essentially the same thing - proof through independent third-party auditing of compliance with requirements.
The Scope of Accreditation is a critical consideration. Only those tests listed in the scope statement given on the accreditation body website page for the accredited organization are included in the accreditation. These often are defined as types of test, rather than a specific, individual test, and so are not too restrictive. Unless the test in question is included in their accreditation scope a test laboratory report or a calibration laboratory certificate cannot carry an accreditation body logo.
Do You Need ISO 17025 Accreditation?
Yes. A claim of compliance with the Standard is meaningless, and of no commercial value, without accreditation. If you are in receipt of test laboratory reports or calibration laboratory certificates that do not have accreditation body logos in addition to the laboratory's own logo, you should always ask why. The use of ISO 17025 is so widespread globally nowadays that you should expect to see accreditation body logos on all test laboratory reports or calibration laboratory certificates.
How much does ISO 17025 Accreditation cost?
The cost of ISO 17025 accreditation varies hugely based on the number of tests included in the scope of accreditation. whether standard methods are in use or not, the size of the organization, and geographical location.
Let's take the example of an SME with 10 employees. And let's assume that the SME is using standard test methods and is already Certified to ISO 9001, which would reduce the work required. Here are some typical prices from the UK for 2021 where we consider three scenarios …
| | | | |
| --- | --- | --- | --- |
| Scenario (1) | Do-it-yourself (2) | Minimum Consultancy Support (3) | Maximum Consultancy Support (4) |
| Develop TCLMS (5 days) | 500£ | 1000£ | 2500£ |
| Implement TCLMS (5 days) | 500£ | 1000£ | 2500£ |
| Maintain TCLMS (2 x 3 years) | 600£ | 600£ | 3000£ |
| Accreditation Year 1 | 5000£ | 5000£ | 5000£ |
| Year 2 | 2000£ | 2000£ | 2000£ |
| Year 3 | 2000£ | 2000£ | 2000£ |
| Total 3-year Cost | £10,600 | £11,600 | £17,000 |
| Typical duration to Accreditation | 11 months | 5 months | 4 months |
Notes:
The accreditation cycle is three years and the Accreditation Body contract is always for a 3-year period.

No outside help. The project leader would need ISO 17025 Lead Auditor Training. Avoid this option unless your experience is sufficient to ensure an effective laboratory management system from the outset.
Four days of consultancy support are included here. Priced at £ 500 p.d., consultancy costs range from £300 to £700 per day. Essential that satisfactory references are obtained for previous ISO 17025 projects.

Maintenance here includes 2 days annually for internal auditing and Management Review support.
Who Issues ISO 17025 Accreditation Certificates?
The ISO develops International Standards, such as ISO 9001 and ISO 14001, but is not involved in their certification or accreditation. ISO does not issue certificates so a company or organization cannot be certified by ISO. This is performed by external organizations.
ISO 17025 accreditation certificates are issued by Accreditation Bodies (and not by Certification Bodies (CABs)) and are based on a comprehensive 2-stage audit (itself based on the auditing standard, ISO 19011), the Accreditation Body gathers and documents objective evidence of compliance with ISO 17025 accreditation requirements with special focus on laboratory methods. After a suitable review within the Accreditation Body, an Accreditation Certificate is issued as is permission to use logos to publicize the fact.
For more visit UKAS, the National Accreditation Body for the United Kingdom.
Can I choose which Accreditation Body to use?
While there is currently a choice of three Accreditation Bodies in the USA, in practice elsewhere the answer is no. In Europe, the national accreditation bodies operate an effective cabal with these bodies refusing to accept work from organizations based outside their national territory.
There are such things as maverick accreditation bodies. While not illegal, their accreditation certificates are worthless. The trustworthy National Accreditation Boards have their own international organization, the International Laboratory Accreditation Cooperation (ILAC), which oversees an ongoing program of witnessed self-assessment of ILAC Members of each others' activities. ILAC is closely associated with the International Accreditation Forum (IAF) which oversees certification to other ISO management system standards.
A Certificate from an accredited test or calibration laboratory will carry three logos. #1 the Laboratories own logo and #2 the Accreditation Boards logo and #3 the ILAC logo. If you present a Report or Certificate to a customer or potential customer that does not carry all three logos, expect to be challenged. Without a plausible explanation, you can expect your approach to be rejected.
Can I check the ISO 17025 Accreditation Status of an organization?
Yes. Go to the website of the relevant (usually national) Accreditation Body and search for the name of the test or calibration laboratory. There you will find details of the Laboratory and the scope of its accreditation, that is, a list of the test methods for which they hold accreditation.
Are all Test Laboratory services covered by ISO 17025 Accreditation?
No. And some offer reports with a variety of logos. Check these carefully. Remember that those reviewing tender documents are unlikely to be inexperienced. They will recognize a poor Accreditation Certificate instantly. And your offering will go directly into the rubbish bin with the hard work you've expended to develop laboratory or calibration services you are proud of totally wasted when an ISO Auditor finds such a bogus Certificate.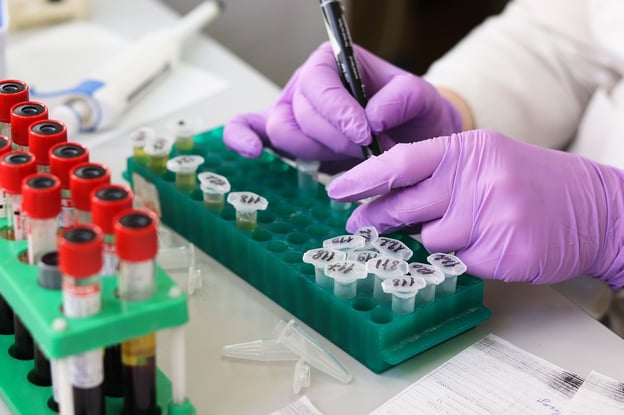 Are all Calibration Laboratory services covered by ISO 17025 Accreditation?
See the previous answer. There are still a number of Calibration Laboratories that offer ISO 9001 Certification and claim that it is an ISO 17025 equivalent. This is untrue. ISO 9001 has no equivalent to the detailed sampling, testing and reporting requirements of ISO 17025. You should seek out laboratories accredited to ISO 17025 wherever possible.
What are the Option A and Option B choices regarding Management System requirements?
This choice of management system options in ISO 17025 is unique to this standard. The easiest way to understand the choices is to quote from the Standard itself …
8.1 Options
8.1.1 General
The laboratory shall establish, document, implement and maintain a management system that is capable of supporting and demonstrating the consistent achievement of the requirements of this document and assuring the quality of the laboratory results. In addition to meeting the requirements of Clauses 4 to 7, the laboratory shall implement a management system in accordance with Option A or Option B.

8.1.2 Option A
As a minimum, the management system of the laboratory shall address the following:
management system documentation (see 8.2);

control of management system documents (see 8.3);

control of records (see 8.4);

actions to address risks and opportunities (see 8.5);

improvement (see 8.6);

corrective action (see 8.7);

internal audits (see 8.8);

management reviews (see 8.9).
8.1.3 Option B
A laboratory that has established and maintains a management system, in accordance with the requirements of ISO 9001, and that is capable of supporting and demonstrating the consistent fulfillment of the requirements of Clauses 4 to 7, also fulfills at least the intent of the management system requirements specified in 8.2 to 8.9.
All organizations certified to ISO 9001 will, almost without exception, choose Option B.
Do Internal Auditors need training?
Again, training here is not mandatory. But effective internal audits are essential to doing a professional job in maintaining your TCLMS and in avoiding nasty surprises at your next Accreditation Body audit. Also, if you don't train them, your auditors won't have any of the skills necessary to 'harvest' those improvement suggestions from the people in your organization who actually do the work.
For more visit ISO 17025 Internal Auditor Course. And at this link, you find a full selection of ISO 17025 Courses.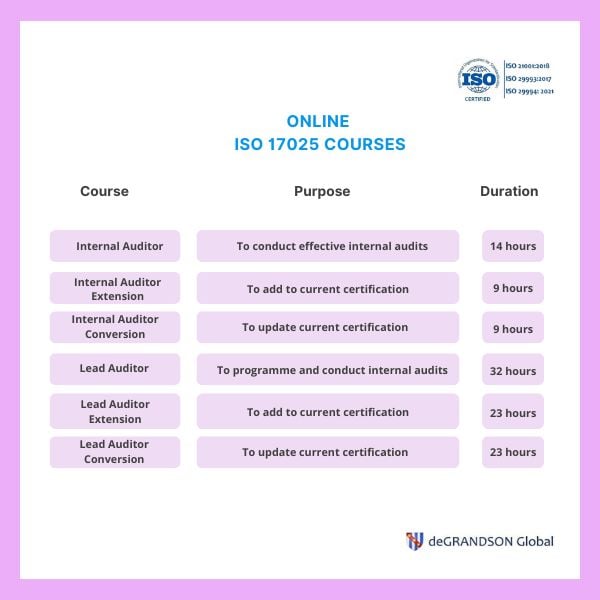 Available ISO 17025 courses image map. Click on any course you are interested in to learn more about it including course content, learning materials, etc.
---
Got a question we haven't answered?
We'd love to hear it and, if possible, answer it for you. Just use our Support Ticket System. You'll find a Knowledge Base there that might have an immediate answer for you. Otherwise, fill in a Ticket.
For more visit deGRANDSON Support Ticket.
Related Articles
---
deGRANDSON Global is an ISO Certified Educational Organization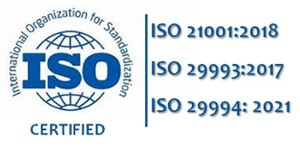 In October 2021 we secured certification to three education-related ISO Standards. We now have a university-grade management system in place conforming to the requirements of …
We have chosen ISO 21001 certification because, unlike IRCA and Exemplar badges (which in our opinion are commercially compromised), it is based on independent third-party assessment. It is a 'university grade' standard in use globally by schools, colleges, and universities to demonstrate their competence.