Essential for B2B businesses and even the smallest organization has a lot to gain from a certified ISO Quality Management System (QMS)
New businesses often ponder the benefits of ISO 9001 Certification and, being busy with start-up priorities, postpone certification until it is asked for by a prospective customer.
At that point, it is of course too late. Optimistically, it takes a minimum of 5 months to get certified by which time the prospect has gone elsewhere.
You should be proactive and the list of benefits here can be used to persuade yourself and your colleagues to get started sooner rather than later.
16 benefits of having a Quality Management System
All organizations certified to ISO 9001 by an accredited Certification Body will enhance their:


Customer satisfaction: First and foremost, ISO 9001 Certification is about satisfying customers and then improving and enhancing their experience in doing business with you. Isn't that what it's all about?


Reputation: be taken seriously as a prospective supplier as the holder of ISO 9001 Certification, which is based on the independent assessment of an accredited certification body.


Qualifications for pre-tender and tender opportunities, especially from the public sector.
Status: Be on equal terms with the 'big' boys' – the size of your organization won't hold you back.


Risk management. While not a requirement, is implemented by most certified organizations as the basis of quantifying threats of all kinds to the business and then proactively dealing with them.


Objectives and improvement

obligations

focus on setting targets for improvement and then planning and implementing them in a timely manner.


Processes and procedures suited to the Mission and strategic objectives you have set for the organization.
Internal audits to monitor compliance with requirements and highlight deficiencies.


Corrective actions to prevent recurrence of errors - try to make mistakes only once, if at all.
Informed Board of directors knowing that the organization is focused on strategic objectives while satisfying customers, and planning and acting to address future challenges.
Management satisfaction knowing that the organization is functioning in line with strategic objectives and satisfying customers.
Minimal costs for maximum gain: the costs of maintaining certification

are minimal

compared to the potential created by having an ISO 9001 compliant Quality Management System.
Reduce errors: Fewer costly errors, less rework, replacement of goods and/or services and increased productivity.
Fewer customer complaints as fewer errors occur.
Better retention of customers: again, a consequence of reduced errors.
Management performance improved as less time was spent apologising to customers and managing the unnecessary repetition of work.
And, if that isn't enough to convince you and your colleagues to seek ISO 9001 Certification, I give up!

When is the right time to get ISO 9001:2015 Certified?
You can go forward for Certification too soon. With start-ups, things are in a state of flux for some months or perhaps some years. When we went forward for ISO 29990 Certification (an ISO 9001 family standard specifically for Learning Providers and since replaced by ISO 21001 certification) we were in business for four years.
We needed to wait until processes and the associated procedures had bedded in. All startups do need to wait until that kind of stability is achieved. After all, startups are about 'running as hard as you can with the ball' and not about documenting things that are liable to radical change next week!
But once you are satisfied that processes and procedures are bedded in, go for it. You definitely won't regret it. Your customers, your board, your staff and your bank manager will all thank you for it. And you'll sleep easier in your bed knowing that your business and the satisfaction of your customers in under control.
Looking for ISO 9001 Training Options?
See our full list of available ISO 9001 training and certification courses on the graphic below for comparison. Just click on any course you are interested in to learn more about them.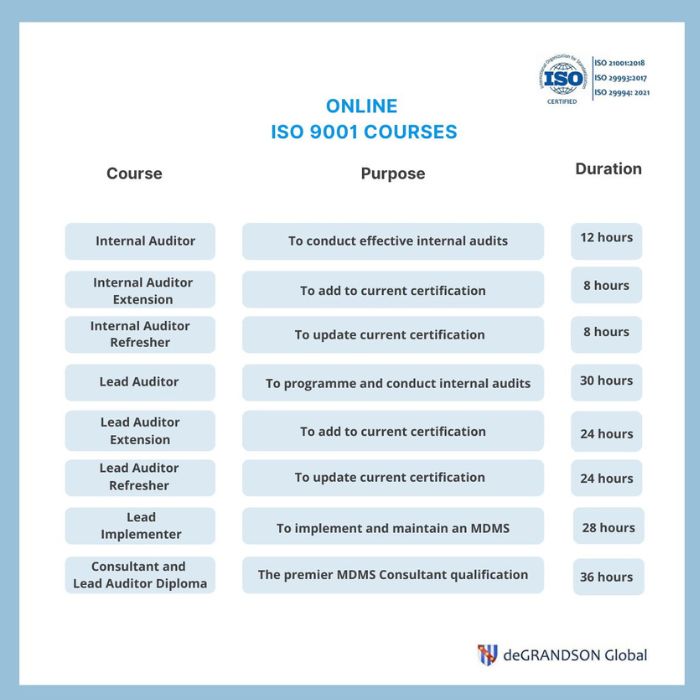 Related Articles
---
deGRANDSON Global is an ISO Certified Educational Organization
In October 2021 we secured certification to three education-related ISO Standards. We now have a university-grade management system in place conforming to the requirements of …
We have chosen ISO 21001 certification because, unlike IRCA and Exemplar badges (which in our opinion are commercially compromised), it is based on independent third-party assessment. It is a 'university grade' standard in use globally by schools, colleges, and universities to demonstrate their competence.