Internationally-recognized Diplomas from an ISO 21001 Certified Educational Organization
ISO standards Consultants are keen to differentiate themselves from the under-qualified hoard who carve up the market with underpriced and badly executed work. And give ISO Consultants a bad name.
In-depth courses with international recognition are what is required, and deGRANDSON meets that requirement with a selection of online, on-demand and self-paced Diploma Courses. And the price is right too.
How you'll benefit
These are the top four …
Instantly confirm your qualification to a prospective client using the QR Code on your Diploma;
Qualified to provide consultancy support to organizations seeking ISO Certification and to undertake audits for Certification Bodies (CABs);
The best in professional Course Content and Course Materials for a satisfying and comprehensive learning experience;
Convenient online learning timed to suit your calendar and availability.
Range of Diploma Courses
We now have four such Diploma Courses that provide ISO consultant training: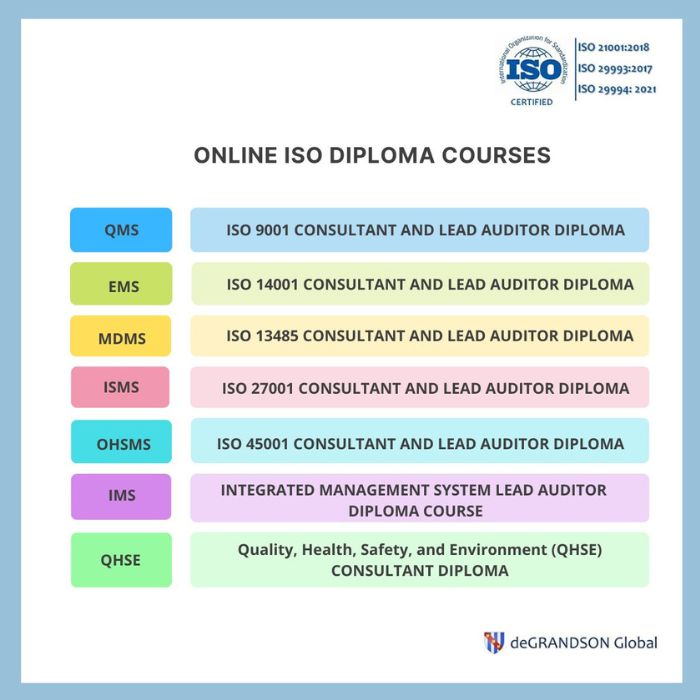 Available Consultant and Lead Auditor Diploma courses image map. Just click on any course you are interested in to see their overview.
Prove your Qualification instantly - Diplomas carry QR Codes for instant verification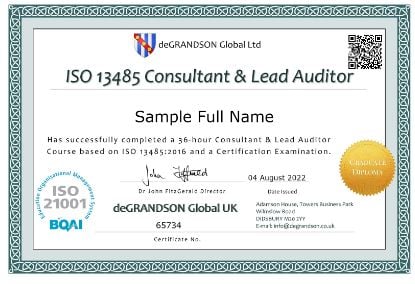 Unique to deGRANDSON is the QR Code that appears on every Diploma. While it can be copied and used on your own emails, website, business card or other promotional literature, the QR code on your diploma's best use is when you first sit face-to-face opposite a prospective client.
You, or the client, can scan the QR Code and instantly get, on the device of your choice, verification of your Qualification.
Recognized Globally with ISO 21001 accreditation
Again, unique among online training providers, deGRANDSON Global is accredited to ISO 21001, a university-grade standard for Educational Organizations.
ISO 21001 focuses on the specific interaction between an educational organization, the learner, sponsors and other relevant interested parties. It specifies requirements for an Educational Organization Management System (EOMS) when such an organization:
Needs to demonstrate its ability to consistently provide, share and facilitate the construction of knowledge while conforming with applicable statutory and regulatory requirements;
Aims to enhance the satisfaction of learners, other customers and personnel through the effective application of its EOMS, including processes for improvement of the system;
Can demonstrate compliance with the Standard's requirement through independent third-part assessment by an accredited Certification Body.
Full details can be found on the 'Our Accreditation' page.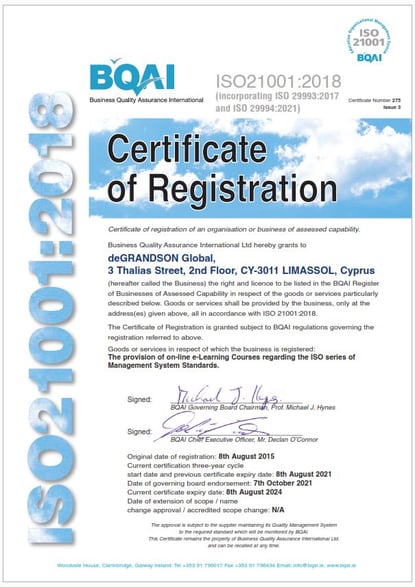 Our Accreditation includes ISO 29993 and ISO 29994 Certification
These are two education-related Standards that are not themselves auditable. To address the requirements specified in these Standards we have included their requirements in our OEMS system.
The full titles of the Standards are …
ISO 29993: 2017, Learning services outside formal education – Service requirements. It specifies requirements for learning services outside formal education, including all types of life-long learning (e.g., vocational training and in-company training, either outsourced or in-house). The key features of these kinds of services are that the goals of learning are defined, the services are evaluated, and that they involve interaction with the learner.
ISO 29994:2021, Education and learning services – Requirements for distance learning. This document specifies requirements for distance learning services not specified in ISO 29993. It is applicable to any distance learning services that are addressed to learners themselves as well as to sponsors who are acquiring the services on behalf of the learners.
The convenience of on-demand, self-paced online Courses
Our Courses are delivered through the services of inquisiqLMS.com, a multi-award-winning Learning Management System (LMS). The Lessons, the Course Materials, the Quizzes, the Examinations and even the issue of your Diploma are all done online. You complete the Course at times and places, and on the device and browser of your choosing – the ultimate in flexible learning.
Related Articles
---
deGRANDSON Global is an ISO Certified Educational Organization
In October 2021 we secured certification to three education-related ISO Standards. We now have a university-grade management system in place conforming to the requirements of …
We have chosen ISO 21001 certification because, unlike IRCA and Exemplar badges (which in our opinion are commercially compromised), it is based on independent third-party assessment. It is a 'university grade' standard in use globally by schools, colleges, and universities to demonstrate their competence.