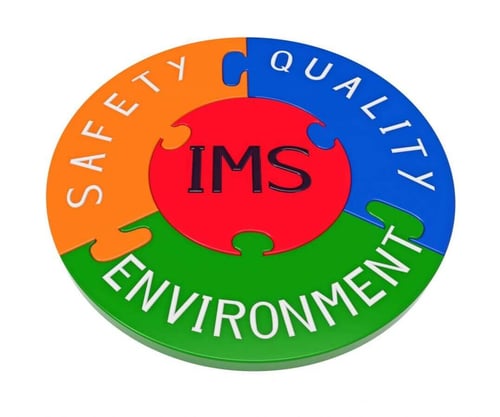 deGRANDSON offers 2 Integrated Management System Diploma Courses
What is an Integrated Management System (IMS)?
An integrated management system (IMS) combines multiple management system standards to which an organization is certified. Our Courses combine ISO 9001 (Quality), ISO 14001 (environmental), and ISO 45001 (OH&S) requirements into integrated courses that avoid unnecessary lesson duplication.
What are the Benefits of an Integrated Management System?
Planning and developing an Integrated Management System must include identifying risks and opportunities that could affect the organization, including its business and quality risks. This is in addition to those relating to health and safety and environmental obligations.
Some areas may integrate more easily than others, and as such, systems may end up being fully integrated or partially integrated. Then, having successfully implemented an IMS, the combined system needs to be maintained.
In this regard, the availability of a suitable number of persons who are adequately and effectively trained is a significant issue, and finding conventional auditor training for multiple Standards can be a nightmare.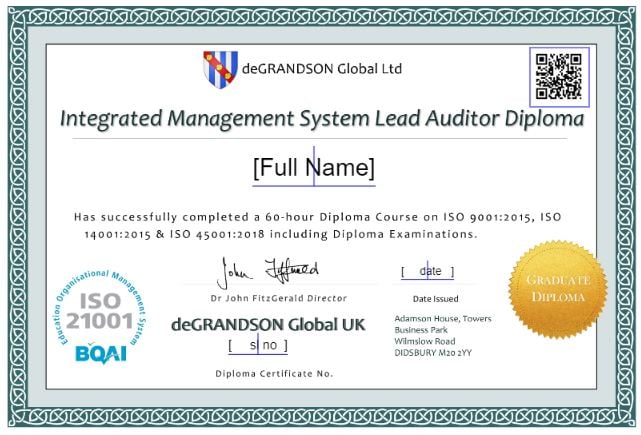 How do Integrated Management Systems Work?
The management systems are developed, implemented, and maintained via one system with processes that cover each standard's requirements -- addressing the difficulties of finding qualified internal auditors to competently confirm the effectiveness of different management systems that require a myriad of requirements.
What are my options when it comes to Integrated Management System training?
Because deGRANDSON recognizes the problem mentioned above, we have developed two Integrated Management System courses as part of our diploma courses selection. These ISO training courses are available online and include ...
IMS Internal Auditor Course (1 of 2)
For auditors who are, or will be, needed to audit combinations of ISO 9001, ISO 14001, and ISO 45001 management systems. While avoiding unnecessary duplication of course content, the Course provides all the knowledge necessary to audit against the distinctly different requirements of these Standards.
IMS Lead Auditor Course (2 of 2)
For Consultants and Quality Managers seeking an internationally-recognized QHSE qualification. With the convenience of online, on-demand, self-paced learning, you avoid the costs, delay, and, let's be frank, the bother of attending conventional college-based courses. Why do a couple of hours a week when you can do a couple of hours a night?!!


Click on the button for full details on our choice of online courses.
If you have any questions, please contact us. We're always delighted to help.
---
deGRANDSON Global is an ISO Certified Educational Organization
In October 2021 we secured certification to three education-related ISO Standards. We now have a university-grade management system in place conforming to the requirements of …
We have chosen ISO 21001 certification because, unlike IRCA and Exemplar badges (which in our opinion are commercially compromised), it is based on independent third-party assessment. It is a 'university grade' standard in use globally by schools, colleges, and universities to demonstrate their competence.