Our Learners and their Sponsors have the same concerns about e-Learning.
Here are the answers to the questions we're repeatedly asked about our online Auditor Training Programs:
Are deGRANDSON'S ISO Training Programs Certified?
Yes, deGRANDSON Global is certified to ISO 21001, the Educational Organizational Management System standard, by BQAI, an internationally accredited Certification Body that independently audits our System annually
Are there corporate discounts?
Yes, details of discounts, based on numbers enrolled, can be found on the Corporate Discounts page.
What are your available payment methods?
You can pay by Debit Card, Credit Card or PayPal during the Program Enrolment procedure. Click on this link to view the Payment Process.
And can I pay by installment?
Yes, our EASY PAYMENT PLAN means you can pay in four equal monthly installments. And there's no extra charge for this facility.
Does the ISO training involve an examination?
Yes. In addition to the Quizzes at the end of each Module, there is a formal Examination at the end of each Course (set of Modules/Lessons). The decision to award a Certificate is based on the combined scores achieved. The Examinations are open-book (you can have the Standard and other notes open beside you), time-limited, and taken online. There are no extra costs involved.
Do you issue certificates after the successful completion of the training program?
Once you have successfully completed the Examination, details of your Certificate are immediately emailed to you. You may print your Certificate as often as you like. Using the QR Code you can access details of your qualification in any browser and at any time. There is no time limit on the validity of your Certificate.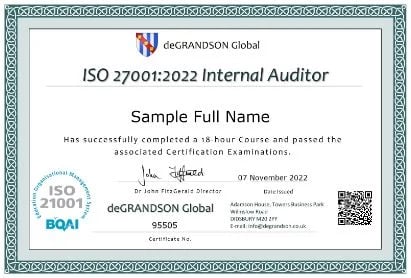 What else will I
need

to become a competent auditor?

Provided you have the required personal attributes, all you need to become a competent auditor is to accumulate auditing experience.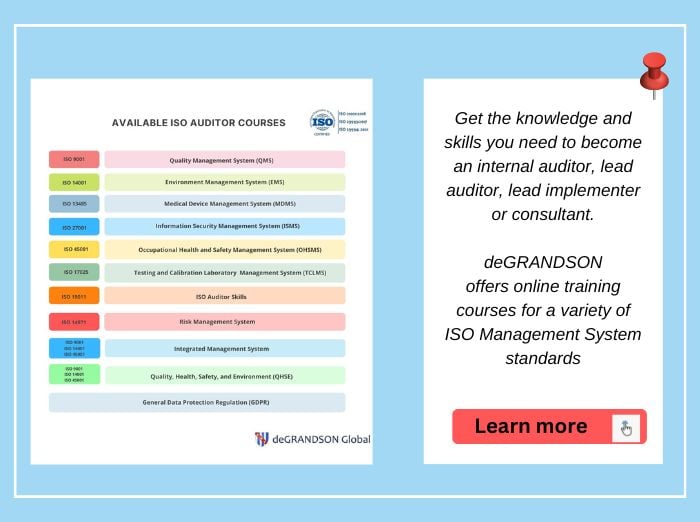 Click on the image thumbnail to see the image in full size or click the button on the other side to go to our ISO auditor overview page to learn more about our courses.
Who can I contact for more
information

?

Just send an e-mail to info@degrandson.com or use the Support Ticket page to contact us.
More on ISO Auditor Online Training
---
deGRANDSON Global is an ISO Certified Educational Organization
In October 2021 we secured certification to three education-related ISO Standards. We now have a university-grade management system in place conforming to the requirements of …
We have chosen ISO 21001 certification because, unlike IRCA and Exemplar badges (which in our opinion are commercially compromised), it is based on independent third-party assessment. It is a 'university grade' standard in use globally by schools, colleges, and universities to demonstrate their competence.