An introduction to our choice of Online ISO 14001 Courses and our e-Learning methods.
We've updated this video for the revised Environmental Management System Standard (ISO 14001:2015) and our current offering of seven ISO 14001 Courses.
What is ISO 14001 Training?
ISO 14001 is an international standard designed to ensure that organizations, regardless of sector, are aware of their activities impact on the environment and that measures are being taken to improve them.
On the other hand, ISO 14001 training is a way to equip auditors with the necessary skills and knowledge to audit Environmental Management Systems and to ensure that they adhere to ISO 14001 standards.
Classroom-based ISO 14001 training vs ISO 14001 Online Training
Conventional classroom-based ISO 14001 auditor courses usually limit you to two choices. These are a 2-day internal auditor course or a 5-day lead auditor course.
Sometimes, this makes selecting an appropriate ISO 14001 course a bit challenging. Fortunately, there is no such limitation when it comes to e-learning-based courses.
Our Courses are available on-demand and so can be fitted around your work and social schedule. A full-resume feature means you can stop in the middle of a lesson and resume later on the same or a different device or location.
Other ISO 14001 Training Options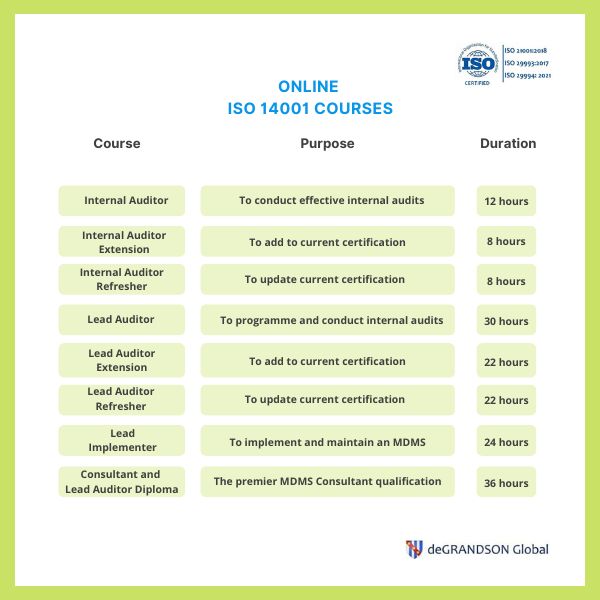 Available ISO 14001 Courses image map. Just click on any course you are interested in to see their overview.
Because there are more training courses to choose from, you can get a course that's specifically designed for your needs. The table below features our ISO 14001 Certified Auditor Training courses listed below -- all delivered online. These include:
ISO 14001 Internal Auditor Training Course (certification, extension, and conversion options),

ISO 14001 Lead Auditor Training Course (certification, extension, and conversion options),

and

ISO 14001 Lead Implementer Training Course (ISO 14001 certification with 100+ page Implementation Handbook including the identification and management of significant environmental aspects and impacts.
And you can start your training today! See our FAQs on e-Training. to learn more.
Related Articles
---
deGRANDSON Global is an ISO Certified Educational Organization
In October 2021 we secured certification to three education-related ISO Standards. We now have a university-grade management system in place conforming to the requirements of …
We have chosen ISO 21001 certification because, unlike IRCA and Exemplar badges (which in our opinion are commercially compromised), it is based on independent third-party assessment. It is a 'university grade' standard in use globally by schools, colleges, and universities to demonstrate their competence.