Need to develop a viable Environmental Management System (EMS) Project Plan?
And then secure ISO 14001 Certification?
Our ISO 14001 Lead Implementer Course has all you need.
The ISO 14001 Implementation Model developed by deGRANDSON Global: The 29 Steps to ISO 14001:2015 Implementation is the model we have developed for implementing an environmental management system (EMS) to meet the requirements of ISO 14001:2015 and to secure accredited certification.
It is the foundation on which our Lead Implementer Course is built.

ISO 14001 Implementation Model
The International Standards Organisation (ISO) has published two standards that focus on developing and implementing an organization's EMS: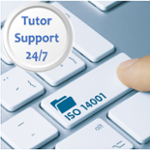 The environmental management system standard: ISO 14001:2015. This standard is the specification for an EMS. It specifies the requirements of an

environmental management system

for organizations seeking to establish, implement and maintain a framework to contribute to sustainable development by:
protecting the environment, including preventing pollution
demonstrating their commitment to satisfying compliance obligations, and
delivering environmental performance improvement.
ISO 14004: 2016, EMS – General guidelines on principles, systems and support techniques. This standard provides an extensive body of knowledge on all aspects of an EMS and has copious examples from which you can draw.
To help make sense of it all from an EMS Implementer or Project Manager's viewpoint we have developed the 29-Step Infographic.
ISO 14001 Implementation Guide
Obtain Management Support (ISO 14001 Clause 5.1)
Assemble EMS Project Team
Gap Analysis and Project Plan
Identify the environmental Context of the Organisation (ISO 14001 Clause 4.1)
Identify Legal and Other Requirements (ISO 14001 Clauses 4.2 and 6.1.3)
Other Interested Party's Needs (ISO 14001 Clause 4.2)
Define Scope of EMS (ISO 14001 Clause 4.3)
Prepare Environmental Policy (ISO 14001 Clauses 4.4 and 5.2)
Define Key Roles and Responsibilities (ISO 14001 Clause 5.3)
Processes, risks, opportunities, and emergencies (ISO 14001 Clause 6.1.1)
Identify and evaluate environmental aspects (ISO 14001 Clause 6.1.2)
Environmental Programme (risks and opportunities) ISO 14001 Clause 6.1.4
Establish EMS Objectives (ISO 14001 Clause 6.2.1)
Environmental Plan to achieve objectives (ISO 14001 Clause 6.2.2)
Operational Controls (specific responsibilities) ISO 14001 Clause 8.1
Identify Monitoring and Measurement Needs (ISO 14001 Clause 9.1)
Establish Operational Controls Monitoring (ISO 14001 Clause 9.1)
Develop Mandatory and Other Documentation (ISO 14001 Clauses 4.4 and 7.5)
Initial Employee Awareness (ISO 14001 Clause 7.3)
Establish Internal and External Communication (ISO 14001 Clause 7.4)
Finalise and Issue EMS Documentation (ISO 14001 Clauses 4.4 and 7.5)
Complete Job-specific Training (ISO 14001 Clause 7.2)
Go Live! Procedures and Environmental Plan (ISO 14001 Clauses 8.1 and 10.1)
Conduct Emergency Drills (ISO 14001 Clause 8.2)
Conduct periodic EMS Performance evaluations (ISO 14001 Clause 9.1)
Conduct Internal Audits (ISO 14001 Clause 9.2)
Conduct Management Reviews (ISO 14001 Clause 9.3)
Implement Continual Improvement (ISO 14001 Clause 10.2)



For ease of understanding, this ISO 14001 guidance lists down the 29 steps in a simple sequence. In reality, you will frequently be working on several steps simultaneously. This will help reduce the overall timescale for the project. When project planning with your project team, you should seek out and document such opportunities. If you want a copy of the 29-step ISO 14001 Guide, just click on the download button above.

Visit our

ISO 14001:2015 Auditor Course

overview page to see all training program options or check out ISO 14001 Certification: 21 FAQs answered to learn more about ISO 14001 training and certification.

Related Courses
Related Articles
---
deGRANDSON Global is an ISO Certified Educational Organization
In October 2021 we secured certification to three education-related ISO Standards. We now have a university-grade management system in place conforming to the requirements of …
We have chosen ISO 21001 certification because, unlike IRCA and Exemplar badges (which in our opinion are commercially compromised), it is based on independent third-party assessment. It is a 'university grade' standard in use globally by schools, colleges, and universities to demonstrate their competence.