Modern e-learning methods can effectively and efficiently deliver courses.
There's much talk in the media about e-learning and forecasts of great growth in the immediate future. But what's the reality? Should you be considering introducing e-learning technology to your organisation?
e-Learning and conventional classroom training are compared in this video. A comparison of the various types of ISO Course Certification is included as is their application to e-Learning Courses.
Our e-Training Courses deliver real-time interactive content in a secure web-based environment. Furthermore, they're specifically tailored to meet the needs of individual learners and organisations of varying sizes.
Related Frequently Asked Questions can be found at e-Training FAQs: ISO Course Online Delivery.
No Videos - No Talking Heads
With the Covid-19 pandemic, a host of conventional training organizations rushed to the internet. In our opinion, they are getting e-learning a bad name because they describe their offering as e-learning when in fact all they offer is a 'live' or recorded lecture (the classic talking heads) or a collection of videos (often the same presenter droning on hour after hour).
This is at best a form of e-training, but never e-learning. They offer one-way instruction, no reinforcement of learning with quizzes and FAQs and no opportunity to easily repeat a screen or section or, with the 'live' events to pause to consult a standard or other document during the lesson.
deGRANDSON Provides true e-learning experience
Learn more about why e-Learning at why deGRANDSON's e-Learning methods work.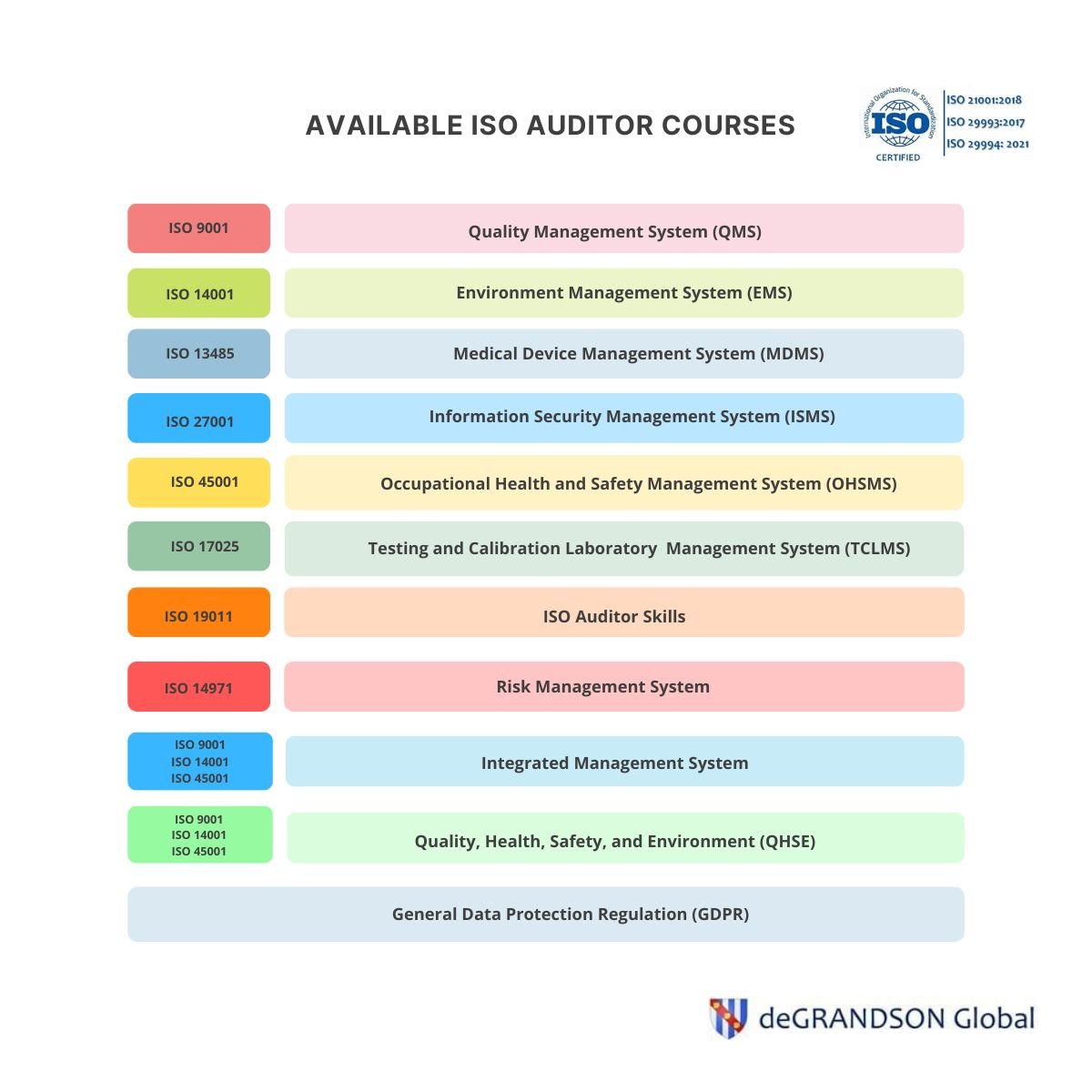 Available ISO Courses Image Map. Just click on any management system standard that you are interested in and you will be taken to their individual overview pages where you can learn more about each online course.
Note: First published in Nov 2020; revised and updated in Apr 2021.
Related Articles
---
deGRANDSON Global is an ISO Certified Educational Organization
In October 2021 we secured certification to three education-related ISO Standards. We now have a university-grade management system in place conforming to the requirements of …
We have chosen ISO 21001 certification because, unlike IRCA and Exemplar badges (which in our opinion are commercially compromised), it is based on independent third-party assessment. It is a 'university grade' standard in use globally by schools, colleges, and universities to demonstrate their competence.