Practical advice on

ISO 9001:2015

Clauses 7.2, 7.3, and 7.4
ISO 9001 Certification will not be achieved unless your effective management of the human resources of your organization can be demonstrated. But, before getting into the DO's and DON'Ts of implementing ISO 9001 Clauses 7.2, 7.3, and 7.4, let's look at the practicalities involved with each of these terms:
ISO 9001:2015 Clause 7.2: Competence
The competence of persons can be based on their education, training, and experience. A suitable combination of these three aspects is what's required.
The organization should determine competence requirements by either an activity or job position/role.
Certain tasks can require a specific level of competence before they can be performed properly or safely (e.g. internal quality auditing, welding, or non-destructive testing).
It might be necessary for persons to be qualified for some tasks (e.g. steel welding, forklift or truck driving). Competence requirements can be determined by different methods, such as through defining job descriptions, or by carrying out job evaluation exercises, when jobs are analysed.
ISO 9001:2015 Clause 7.3: Awareness
Awareness is attained when persons understand their responsibilities and authorities and how their actions contribute to the achievement of the organization's quality objectives. Many organizations create awareness through communication.
ISO 9001:2015 Clause 7.4: Communication
The organization should determine those relevant internal and external parties with whom they need to communicate, to ensure the effective operation of the quality management system.
This can include relevant persons within the organization at all levels and relevant interested parties (such as customers, external providers used to source products and services, or regulatory bodies).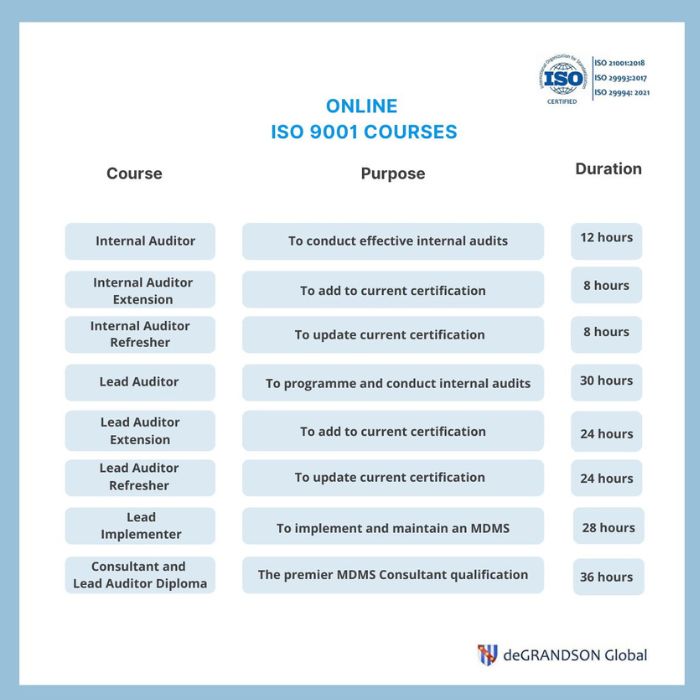 Available ISO 9001 Courses image map. Click on any course you are interested in to learn more about it including the course content, learning materials, etc.
How to Implement the Competence, Awareness, and Communication Clauses of ISO 9001:2015
DO's
Do create an Organization Chart. If this has not been done before, expect this to be a challenging task and involve your colleagues – people are sensitive about their jobs especially when they're ill-defined.


Do create Job Descriptions for each position on the Organization Chart.
Do ensure that the Job Descriptions include specifics. These include:

Job Title
Qualifications and experience required (minimum)
Role, responsibilities and duties
Authorities



Do make sure that all personnel are aware of their responsibilities and authorities. This includes those engaged on a contractual, temporary, voluntary basis,


Do make sure that all personnel are trained in their Job Descriptions (and create corresponding records).


Do make sure that all personnel are trained in the principal Procedures and methods applicable to their job descriptions (and create corresponding records). This is a frequent omission found in external audits.


Do use your Training Records to record Competency Checks. These are more credible if the check is done by someone other than the Trainer, say, the Supervisor or Manager of the Trainee.


Do include essential, routine internal and external communication in the Job Descriptions. For example, who is responsible for communication plans to those who will implement them; who is responsible for communicating with customers on commercial matters; who is responsible for communicating with suppliers on technical matters; and so on.


DON'Ts
Don't omit Authorities from your Job Descriptions – another frequent omission.


Don't ignore the checklist, a) through d), of clause 7.3 Awareness. Include it in your internal audit.



Don't ignore the implications of not

conforming to the quality management system

requirements.

Personnel need to know the consequences for the organization, at least in general terms, of not following procedures, of exceeding their authority, etc. External auditors frequently use this as a check of the level of Awareness.
Conclusions
For successful ISO 9001 implementation, training records are not sufficient to demonstrate competency, awareness and communication.
The consequence of the 2015 version of the Standard having separate clauses for Competence, Awareness and Communication is that external auditors will seek objective evidence that each of the three requirements is being complied with. So, you will need to address each separately and have evidence, in each case, to back up your claims of compliance.
For more visit here.
Note: First published in September 2018; revised and updated June 2022.
Related Articles
---
deGRANDSON Global is an ISO Certified Educational Organization
In October 2021 we secured certification to three education-related ISO Standards. We now have a university-grade management system in place conforming to the requirements of …
We have chosen ISO 21001 certification because, unlike IRCA and Exemplar badges (which in our opinion are commercially compromised), it is based on independent third-party assessment. It is a 'university grade' standard in use globally by schools, colleges, and universities to demonstrate their competence.