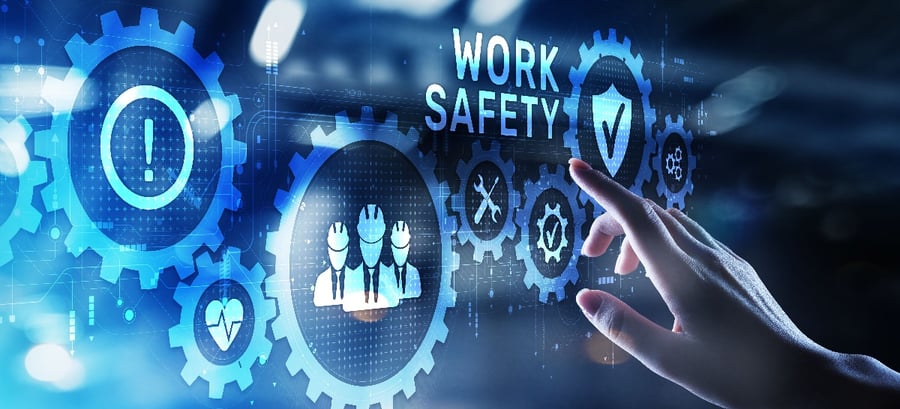 In addition to ISO 45001, there are several other Standards in the ISO 45000 Series that you should consider and, perhaps, include in the scope of your OHSMS. If your organization is certified to ISO 45001, your Certification Body will add mention of any of these other OH&S Standards to your ISO 45001 Certificate. So, all interested parties will be aware of your commitment to Occupational Health and Safety.
The ISO 45000 Series of international standards
ISO 45001:2018 - Occupational Health and Safety Management Systems (OHSMS) – Requirements with guidance for use.
Requirements for an auditable OHSMS to protect the health and safety of all in the workplace.
The 'parent' of the Series.
ISO 45002:2023 - OHSMS – General guideline for the implementation of ISO 45001:2018
Guidance on establishing, implementing, maintaining, and continually improving an occupational health and safety (OH&S) management system that can help organizations conform to ISO 45001:2018.
For most of the clauses in the Standard, there are real-life cases of how different types of organizations have implemented the requirements.
ISO 45003:2021 Occupational health and safety management (OHSM) - Psychological health and safety at work - Guidelines for managing psychosocial risks.
Guidelines for managing psychosocial risk within an OHSMS based on ISO 45001. It enables organizations to prevent work-related injury and ill health of their workers and other interested parties and to promote well-being at work.
ISO 45004: 202X – OHSM Guidelines on performance evaluation (in development – expected 2024)
Includes the processes the organization chooses to assess the adequacy of activities expected to achieve OH&S intended results. OH&S performance is typically evaluated using a combination of processes and sources of information such as incident investigation, inspections, audits, qualitative and quantitative indicators, culture surveys, and interviews.

ISO 45005:2021 – OHSM - General guidelines for safe working during the COVID-19 pandemic
This document gives guidelines for organizations on how to manage the risks arising from COVID-19 to protect work-related health, safety, and well-being.
ISO 45006: 202X - OHSM Guidelines for organizations on preventing and managing infectious diseases (in development – expected late 2023)
Will replace ISO 45005
Guidelines for organizations on how to prevent exposure to and manage the risks associated with infectious diseases that: - present a risk of severe ill health or death and can impact the health, safety, and well-being of workers and relevant interested parties; - present a lower health risk yet have a significant impact on the organization, its workers and relevant interested parties.
Can I implement ISO 45001 myself?
Indeed, our ISO 45001 Lead Implementer Course (click the Lead Implementer button in the table below for full details) comes with step-by-step guidance on developing and implementing an OHSMS that complies with ISO 45001 and in security ISO 45001 Certification.
If your organization already has ISO 9001 Certification, implementing ISO 45001 will be straightforward, with many processes common to both Standards.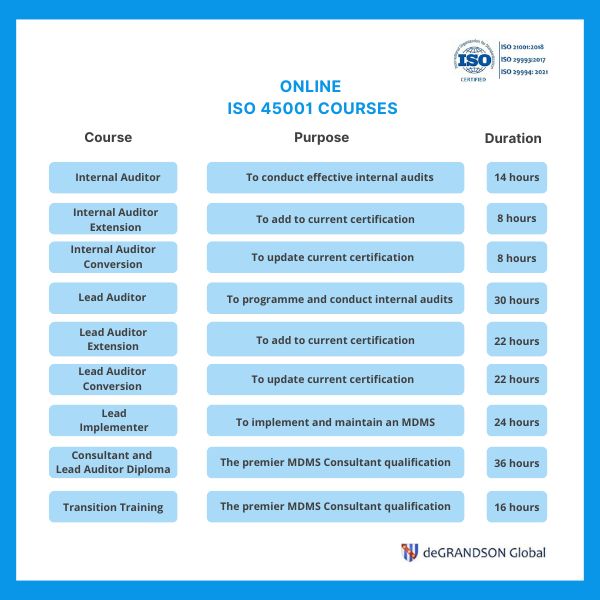 ISO 45001 image map. Click on any course you are interested in to see their overviews.
Related Articles
---
deGRANDSON Global is an ISO Certified Educational Organization
In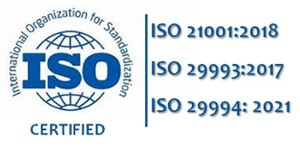 October 2021, we secured certification to three education-related ISO Standards. As a result, we now have a university-grade management system conforming to the requirements of …
We have chosen ISO 21001 certification because it is based on independent third-party assessment, unlike IRCA and Exemplar badges (which we believe are commercially compromised). In addition, it is a 'university grade' standard in use globally by schools, colleges, and universities to demonstrate their competence.