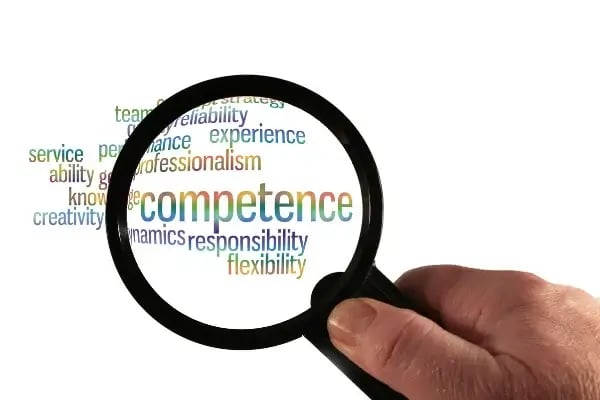 The ISO Auditor Certificate, even if recorded on a professional register, is never enough.
Competence is defined as the 'ability to apply knowledge and skills to achieve intended results.' And so it is with ISO Auditor Competence. For Lead Auditors and their Audit Team Members, the requirements are clearly spelled out.
Who sets the criteria, and who evaluates and decides on ISO Auditor competence?
In clause 4.3.3 of ISO 17021-1, the ISO Standard for Certification Bodies - competency is a key requirement for the certification body to have an implemented process for the establishment of competence criteria. This will be used for the personnel involved in the audit and other certification activities, as well as to perform evaluations against the criteria.
Also, 'the certification body shall have processes for selecting, training, formally authorizing auditors and for selecting and familiarizing technical experts used in the certification activity'.
The initial competence evaluation of an auditor, by the Certification Body, 'shall include the ability to apply required knowledge and skills during audits, as determined by a competent evaluator observing the auditor conducting an audit.'
Do you have what it takes to be a Lead Auditor?
Auditors are required to demonstrate certain knowledge and skills, including the following:
For Audit Team Members
For Lead Auditors, in addition to the four Knowledge and Skillsets, the following are also required:
Knowledge of business management practices

Knowledge of audit principles, practices, and techniques

Knowledge of client products, processes, and organization

Language skills appropriate to all levels within the client organization

Note-taking and report-writing skills

Presentation skills

Interviewing skills

Audit-management skills
Auditor competence, then, goes beyond a knowledge of the standard or the completion of a Certified Auditor Course.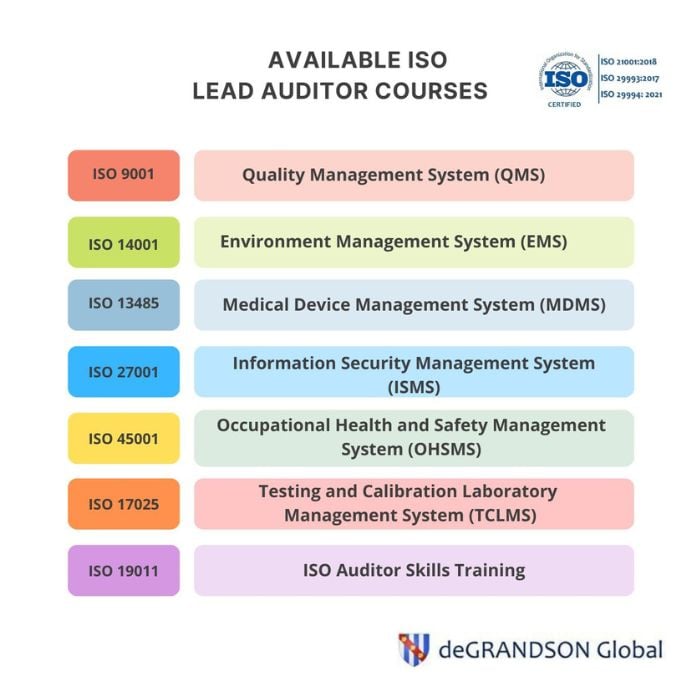 Available ISO Lead Auditor Courses image map. Just click on any course you are interested in to see its full overview.
So, what knowledge and skills must a Lead Auditor demonstrate?
Can a Training Organization or a professional body determine an ISO Auditor's competence?
No! The two things to note are...
1) in determining competence, the auditor must be observed conducting an audit and
2) the observer must be provided by the Certification Body.
So, as required by ISO 17021-1, this is the certification body's responsibility, and it is the Certification Body that decides on an auditor's competence and maintains evidence of such competency.
Must an ISO Auditor maintain an Auditor's Log and be re-trained or re-certified every 3 years?
Again, no! There are no such requirements in ISO 17021-1. The certification body must, of course, ensure the auditor's ongoing competence. Re-training, conversion training, and the extension of scope (add other ISO standards) may be part of maintaining competence. Experience over 25+ years tells us that practical and frequent experience in carrying out audits is a more significant component in maintaining competency than training.
Certified Auditor Training is important, but it is only one step on the way to becoming a competent ISO Auditor.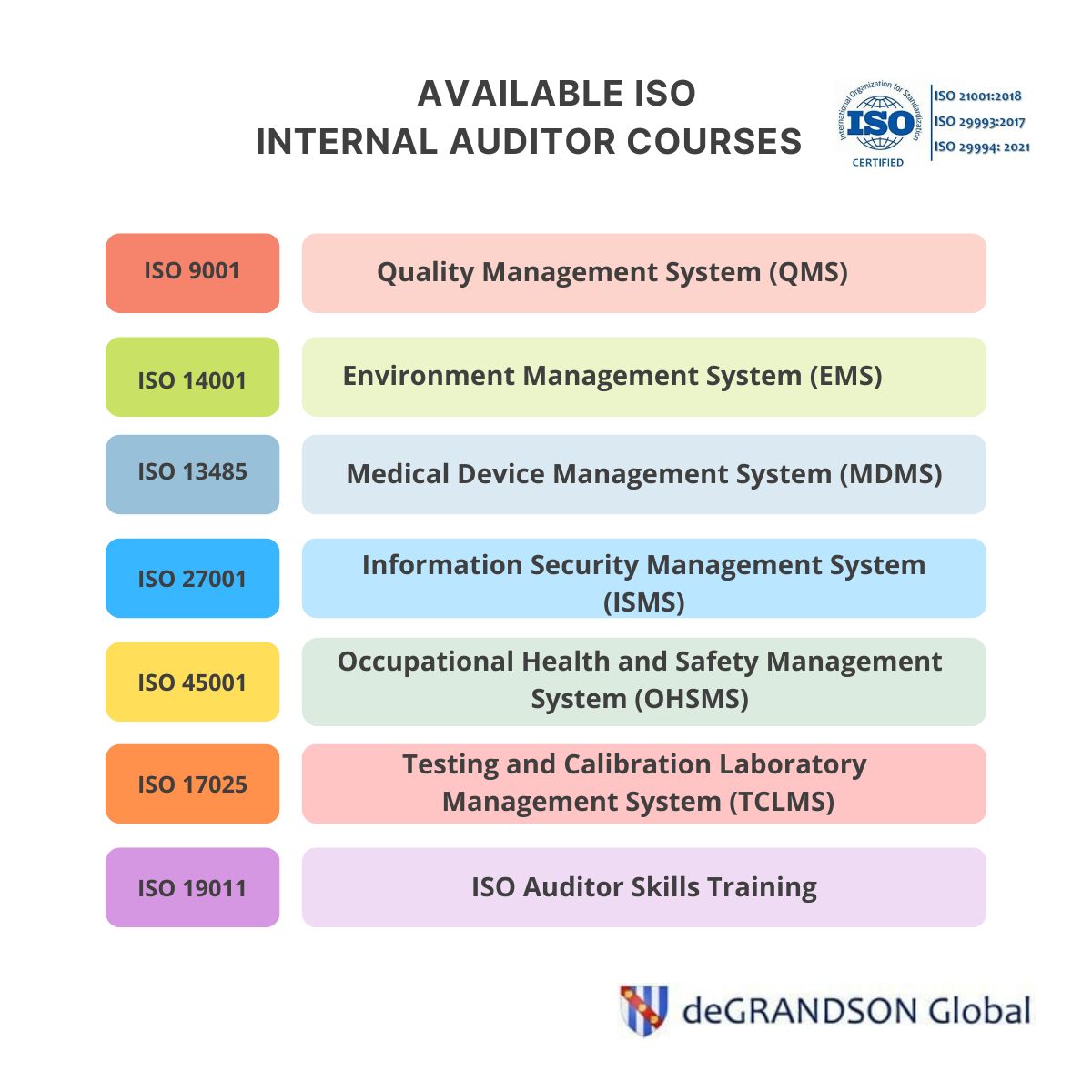 Available ISO internal auditor courses by standard image map. Click on any course you are interested in to see its full overview.
For further information…
If you'd like further information, try these links.
For a little fun, assess your Auditing Skills
Are you curious to know how your auditing skills measure against ISO standards? Try our internal auditor skills checker for free by clicking the button below.
Related Articles
Note: First published July 2020; revised and updated June 2022.
---
deGRANDSON Global is an ISO Certified Educational Organization
In October 2021, we secured certification to three education-related ISO Standards. We now have a university-grade management system in place conforming to the requirements of …
We have chosen ISO 21001 certification because, unlike IRCA and Exemplar badges (which in our opinion are commercially compromised), it is based on independent third-party assessment. It is a 'university grade' standard in use globally by schools, colleges, and universities to demonstrate their competence.