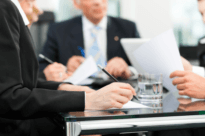 All auditor experience where a prospective auditor participates in a real audit is useful. But, there is a fundamental question for ISO management system standards, are auditor training days needed before a Lead Auditor Training Certificate can be issued? We say No, and here's why.
The answer: There is no such requirement in ISO standards. Indeed no training organisation can certify you as a competent Lead Auditor!
Who Determines Auditor Competence?
Deciding on Auditor Competence is in the hands of the Certification Bodies alone. The ISO standard which applies to work of certification bodies is ISO 17021-1. Clause 4.3, Competence, of ISO 17021-1 states:
'4.3.1 Competence of the personnel of the certification body in all functions involved in certification activities is necessary to deliver certification that provides confidence.
4.3.2 The competence also needs to be supported by the management system of the certification body.
4.3.3 It is a key issue for the management of the certification body to have an implemented process for the establishment of competence criteria for the personnel involved in the audit and other certification activities and to perform evaluation against the criteria.'
Clause 7.2.4 of ISO 17021-1, includes the requirement that the initial competence evaluation of an auditor, by the Certification Body 'shall include the ability to apply required knowledge and skills during audits, as determined by a competent evaluator observing the auditor conducting an audit'.
Facts that You Need to Know if You Want to be an ISO Lead Auditor
Training organisations deliver courses to develop the knowledge and skills needed by ISO Auditors.
A training organisation can certify you as trained, not certify you as competent.
Maintaining Auditor Registers is superfluous – an unnecessary burden and expense often borne personally by many Auditors.
Routine re-training demanded by some training organisations is not a requirement for Certification Body Auditors. It is the Certification Body's responsibility to monitor and maintain Auditor competence, which may include additional training.
To recap, no training organisation can deem you to be a Competent Lead Auditor. Only a Certification Body, whose responsibility it is, can do so.
Note: Revised and updated in June 2022; first published July 2016.
Related Articles
---
deGRANDSON Global is an ISO Certified Educational Organization
In
October 2021 we secured certification to three education-related ISO Standards. We now have a university-grade management system in place conforming to the requirements of …
We have chosen ISO 21001 certification because, unlike IRCA and Exemplar badges (which in our opinion are commercially compromised), it is based on independent third-party assessment. It is a 'university grade' standard in use globally by schools, colleges, and universities to demonstrate their competence.