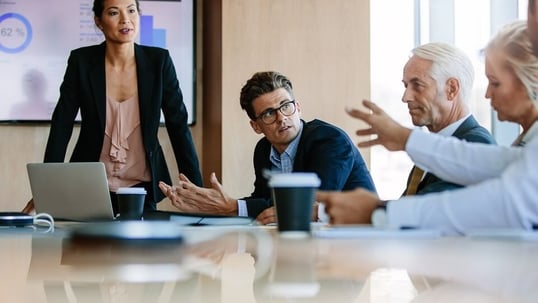 You've got the Certificate but are you certified to the ISO Standard or accredited to it?
It may seem unimportant in the scheme of things but people, like potential customers, will judge you based on your correct use of technical and allied terms.
ISO 9001 Accreditation
'Accredited to ISO 9001' is a frequently seen claim on the internet and other media, and maybe you say this too. And it is always untrue!
This is because it is not possible to be accredited to ISO 9001. The only possibility is certification to ISO 9001. And here's why.
Who Provides ISO Certification?
ISO does not itself certify organizations, contrary to common belief. Many countries have formed accreditation bodies to authorize certification bodies. Certification bodies, in turn, audit organizations applying for ISO 9001 certification. The diagram illustrates the relationships concerned.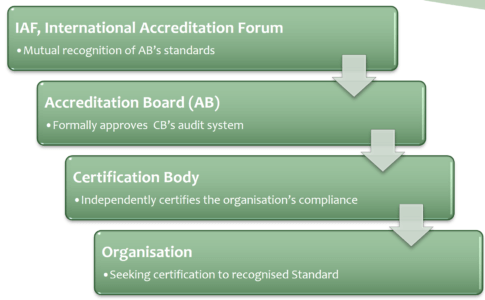 How does the ISO Certification Process Work?
In the ISO Certification process, the applying organization is assessed based on an extensive sample of its sites, functions, products, services and processes.


A list of problems ("non-compliance") is made known to the management.


If there are no major problems on this list, or after it receives a satisfactory improvement plan from the management showing how any problems will be resolved, the certification body will issue an ISO 9001 certificate.
An ISO certificate is not a once-and-for-all award but must be renewed at regular 3-year intervals recommended by the certification body. There are no grades of competence within ISO 9001. Either a company is certified (meaning that it is committed to the method and model of quality management described in the standard), or it is not.
What are Certification Bodies
Certification bodies are independent legal entities that certify the compliance of an organization to a particular standard. Most certification bodies are private businesses though some are associated with national standards organisations. There are hundreds of certification bodies operating across the globe.
They carry out their work in compliance with ISO 17021, which is an ISO standard for the management and administration of certification bodies. The intention is that all certification bodies should offer external auditing services of an equivalent standard.
However, there are a number of bogus certification bodies in operation. The question then that comes to mind is: how do we distinguish between a genuine certification body and a bogus one. The answer lies in accreditation which we look at next.
What are Accreditation Boards
Accreditation boards exist with the purpose of ensuring that accredited certification bodies operate to a uniform, and high, standard of external auditing. Typically, there is one national accreditation board per country.
These boards audit the activities of certification bodies in a manner very similar to the way in which certification bodies audit certified companies. Occasionally, you will find that when a certification body comes to carry out an external audit at your site, the auditor is accompanied by an observer from the accreditation board.
This is part of the accreditation board's auditing activity. And geared towards ensuring a uniform standard of auditing by the certification body.
What is the International Accreditation Forum (IAF)?
In order to ensure the uniform standard between accreditation boards, they have joined together to form the International Accreditation Forum, IAF.
This global group, of approximately 60 boards, are actively engaged in maintaining and improving auditing standards. And to that end, they continue to produce guidance to be followed, both by accreditation boards and by certification bodies.
The various accreditation bodies have mutual agreements with each other to ensure that certificates issued by one of the Accredited Certification Bodies (CB) are accepted worldwide.
[For a listing of UK Accredited Certification Bodies with details of the scope of their accreditation, visit the UKAS site; for Ireland visit INAB.]
How to Get International Recognition
The most important way is to ensure that your organisation is audited by an accredited certification body. And this, so that you will be audited fairly to a high, uniform standard, which will have international recognition.
[Don't forget: Your organization is certified to ISO 9001 or other management system standards. And it is your Certification Body that is accredited to ISO 17021]

Accredited Training vs. Certified Training
There is no international body, the equivalent of the IAF when it comes to ISO training. Many commercial and/or professional bodies claim to accredit certain courses.
Sometimes this 'accreditation' can be purchased by the training organization. So, as a buyer of training, you need to check out claims regarding accreditation of the training course of interest.
in the marketplace, generally speaking, the distinction between accreditation and certification is becoming blurred. The terms, where training is concerned, are routinely used interchangeably.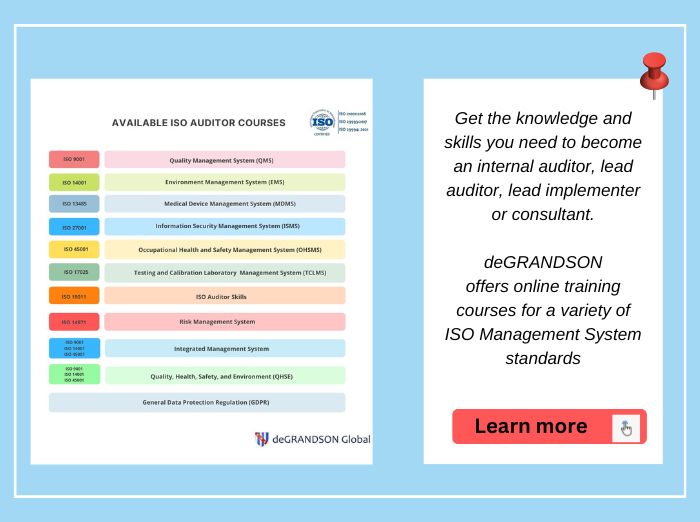 Click on the image thumbnail to see the image in full size or click the button on the other side to go to our ISO auditor overview page to learn more about our courses.
Note: First published in June 2020; revised and updated in September 2021.
Related Articles
---
deGRANDSON Global is an ISO Certified Educational Organization
In October 2021 we secured certification to three education-related ISO Standards. We now have a university-grade management system in place conforming to the requirements of …
We have chosen ISO 21001 certification because, unlike IRCA and Exemplar badges (which in our opinion are commercially compromised), it is based on independent third-party assessment. It is a 'university grade' standard in use globally by schools, colleges, and universities to demonstrate their competence.