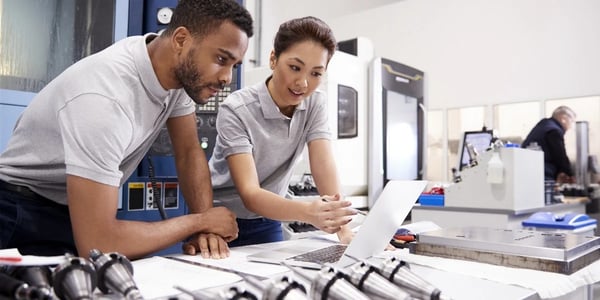 Clearly defined and strictly followed laboratory quality controls are a must when offering laboratory services of any kind.
New businesses rarely ponder the benefits of being accredited to ISO 17025 however, even the smallest organization has a lot to gain from an accredited Testing and/or Calibration Laboratory Management System (TCLMS).
Startup priorities, and the fact that it takes a minimum of 5 months to get accredited, means that the benefits of ISO 17025 are rarely given serious consideration.
We are not talking about brick-and-mortar labs only. Accredited laboratories can undertake work:
In-house in one's own laboratory,
On-site in a mobile lab (might be a towed caravan), or
At a Remote Site with no infrastructure, e.g. testing of welding at an off-shore gas facility.
How do Businesses Benefit from being Accredited to ISO 17025?
For new testing laboratories, accreditation to ISO 17025 can help them compete with established laboratories
For old calibration laboratories that need to 'up their game,' accreditation can help avoid loss of business to other accredited laboratories,
For precision parts and product manufacturers, accreditation can help secure the trust of customers who value or demand reliable test results,
For businesses with lots of devices/tools needing frequent calibration (e.g. aircraft maintenance or aircraft parts repair), accredited in-house laboratories can save money and are more responsive to demand,
For businesses located in remote locations (bringing calibration technicians to the site is both inconvenient and prone to cause project delays, e.g. pressure testing of pipework at a mine in a desert location),
For food testing laboratories in food factories where both customers and the regulatory authorities are reassured by lab accreditation and,
Manufacturing startups of precision components, moldings, or similar that need to compete with established suppliers from the outset.


Types of Businesses that Benefit from ISO 17025 Accreditation
There is a wide variety of businesses that might require or benefit from an ISO 17025-accredited laboratory. These would include…
Chemical laboratories where the accuracy and reliability of chemical analysis results are essential for quality control as well as research and development,


Biological laboratories where the accuracy of biological research results is crucial for scientific advancements, medical research, and healthcare applications,


Miscellaneous scientific laboratories where the accuracy of data and relevant measurements contribute to the validity of scientific studies as well as encourage collaboration and data-sharing with research institutions, universities, and industry partners,


Medical laboratories where the accuracy of test results is crucial for ensuring patient safety and quality care,


Clinical laboratories where precision and reliability of diagnostic tests are vital in diagnosing diseases and providing appropriate treatment methods or other medical interventions,


Biotech clinical laboratories where the accuracy and reliability of biotech-based diagnostic tests are critical for personalized medicine and therapeutic decision-making,


Safety laboratories where the credibility of safety assessments and reports provide assurance that safety standards and regulatory requirements are constantly met,


Research laboratories where the accuracy of research data is crucial for strengthening the credibility of research outcomes and advancing knowledge and understanding in various scientific fields,


Applied research laboratories where the accuracy and reliability of research data are important for translating research findings into practical solutions.
Can you see opportunities for your organization in ISO 17025 accreditation?
If so, the list of benefits below can be used to persuade yourself and your colleagues to get started sooner rather than later down the road to ISO 17025:2017 (the latest edition of the standard) accreditation.
7 More Practical Benefits of Being Accredited to ISO 17025
While helping to enhance your business' reputation, here are some more benefits that SMEs and others that have ISO 17025 Accreditation can enjoy:
Independent confirmation of the validity of results. This is produced by your Testing or Calibration Laboratory.
Recognized reputation as a 'professionally' managed business. Furthermore, you have the internationally-recognized Accreditation Certificate to prove it,
Improved ability to respond to regulatory compliance issues.

This includes laboratory activities with an improved relationship with the regulatory authorities as a consequence,

Reduced cost of calibration checks and of disruption to operations. This is thanks to having a flexible in-house capability to handle your calibration needs,
Peer recognition for having achieved an international benchmark. This, in turn, influences current and potential customers who are concerned about the reliability of test results,
Improved sales opportunities.

This is especially advantageous when competing with long-established, larger organizations, and

Larger pool of qualified candidates applying to work with your business. When your business has a good reputation, attracting top talent is much easier.
So, if you haven't got accreditation to ISO 17025, or you need 'ammunition' to persuade your colleagues, you now have 7 good reasons where the financial benefits, as well as the practical ones, can be calculated. Your staff will thank you for it.
The ISO 17025 Lead Auditor Extension Course will save you time and money
When is the right time to get ISO 17025:2017 Accredited?
As soon as processes and procedures are bedded in, you can start your accreditation project. In practice, this means as soon as the lab is equipped and services are installed. You can then start on the development or utilisation of test methods and the training of analysts.
Don't underestimate how long the pathway to accreditation is. It takes 5 months minimum to get ISO 17025 accreditation, but it could extend up to 12 months if you need laboratory-developed methods or if there are complexities of planning permission or environmental operating licences, or if complex utilities and services were needed.
NOTE:
If you're wondering where to start with certification, begin by considering our ISO 17025 Lead Auditor Course as well as the other posts we have published about this standard and ISO 17025 training.

Click on the image thumbnail to see the image in full size or click the button on the other side to go to our ISO 17025 course overview page.
Related Courses
Related Articles
Note:FirstpublishedMay2020;revisedandupdatedinMsy2022.
---
deGRANDSON Global is an ISO Certified Educational Organization
In October 2021 we secured certification to three education-related ISO Standards. We now have a university-grade management system in place conforming to the requirements of …
We have chosen ISO 21001 certification because, unlike IRCA and Exemplar badges (which in our opinion are commercially compromised), it is based on independent third-party assessment. It is a 'university grade' standard in use globally by schools, colleges, and universities to demonstrate their competence.