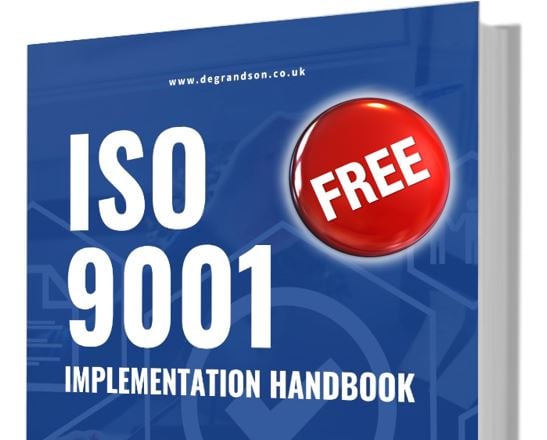 This 120+ page 'instruction manual'
is supplied free

with our ISO 9001 Lead Implementer Course

. It is not for sale.

But it is everything you'll need to develop, implement and maintain a management system to ISO 9001 Certification standard.

If you want to be a QMS Consultant or if you wish to develop and implement a Quality Management System (QMS), our ISO 9001 Lead Implementer Course is ideal. It will be especially beneficial to …
Newcomers to QMS: You don't need to be an expert. You'll be taken on a practical journey from getting started to Certification.
ISO 9001 Consultants: Gives you the methodology on how to implement QMS Projects faster and easier than ever before.
Experienced Quality Management Professionals: Understand the impact of the revised Standard, the many instances where documentation may be required, and best practice in maintaining a QMS.


NOTE: Other ISO 9001 training options are available; click here.
Extensive Course Materials are included
These include ...
ISO 9001:2015 Quality Management System Implementation Handbook – 120pages of detailed step-by-step instruction
Diagram: The 33-step Path to ISO 9001:2015 Certification
Documented Information Requirements of ISO 9001:2015
Determining the Context of the Organisation
ISO 9001-2015 and Risk-based Thinking
Risk Assessment Tools and Methodologies
Terms & Definitions
Typical Process Map
Comparison of ISO 9001:2015 vs. ISO 9001:2008
Sample QMS Policy Manual

Sample Procedures
Sample Records
Sample Audit Plan
Sample Audit Work Order
Sample Nonconformity Report
Sample Working Document & Checklist
Sample Management Review Record

Diagram: Auditor Certification Process
Seventeen Guidance Documents to ISO 9001:2015
Handbook: Learner Manual
Diagram: 6-Stage Audit Process
Sample Code of Ethics
Management of an Audit Programme
ISO 9001 Lead Implementer Certificate for you
The course itself provides you with the Auditing Skills, the Knowledge of the Standard, and the practical application of that knowledge with Audit Scenarios to enable you, as Audit Programme Manager, to undertake and manage Internal Audits for your Organisation.
The Course, which is available on-demand and is self-paced, is delivered online in four Modules ...
Module 0: Introduction and background to the Standard and auditing.
Module 1: Auditing Skills to Lead Auditor Level and based on the auditing standard ISO 19011:2018
Module 2: Knowledge of the Standard, ISO 9001:2015, Quality management systems – Requirements
Module 3: Practice with Scenarios, based on actual audits and includes advice on dealing with awkward situations and individuals.
On successfully completing the course you will receive an ISO 9001 Lead Implementer Certificate, the qualification of QMS Consultants.
Related Articles
---
deGRANDSON Global is an ISO Certified Educational Organization
In October 2021 we secured certification to three education-related ISO Standards. We now have a university-grade management system in place conforming to the requirements of …
We have chosen ISO 21001 certification because, unlike IRCA and Exemplar badges (which in our opinion are commercially compromised), it is based on independent third-party assessment. It is a 'university grade' standard in use globally by schools, colleges, and universities to demonstrate their competence.