deGRANDSON offers world-class tuition, internationally-recognized certification, and budget-friendly pricing. Here are some of the features of our Courses...
We offer genuine e-Learning Courses so you enjoy...
Course delivered in your favorite browser. Choose any operating system and browser combination you favor, and our responsive Courses are instantly available. No software or Lessons need to be downloaded.

On-demand Tuition - times and places of your choosing with no fixed date or time

Self-paced Lessons - Speed through to review the topics you understand well but take your time, and repeat as you wish, sections that are new or challenging. No videos or talking heads to bore you to distraction.

Free 24/7 Tutor Support - Should you have any questions, you can raise a Support Ticket and get expert advice on any or every aspect of your Course.

Lessons are delivered in a choice of media - each Lesson is a progressive series of screens with matching audit and/or subtitles/closed caption text.

Lesson delivered using methods suited to adult learning, including tuition, FAQs, and quizzes.

Certificates with QR Codes: You can instantly verify your qualification to a potential client or employer using the codes.

Corporate Discounts: Save more when you buy ISO courses for three or more people.

ISO 21001, ISO 29993, and ISO 29994 Accreditation: We've had ISO 21001 accreditation as an Educational Organization with additional e-learning services since 2021. Awarded by BQAI, an accredited Certification Body, our ongoing compliance is confirmed by an independent third-party audit every year.
What then of our ISO 14971 Courses?
Before turning to our Risk Management Courses for medical devices, let's consider the subject of risk.
What is Risk Management?
Until about 15 years ago no one in business gave formal consideration to risk. Yes, it was there in the books on management from business schools but the practical application of risk mitigation was something only insurance companies talked about. Not so today. And if your organization is not 'up to speed' on managing risk you are, at best, bleeding profit or, at worst, laying the groundwork for your organization's demise.
Our area of interest is ISO Management System Standards and in this post, we give you an overview of the many posts we have published on this topic.
Risk management is the act of proactively identifying possible threats to an organisation and laying out appropriate measures to minimize their impact.
A risk management plan can include but is not limited to an assessment of the organization's structure, the identification of its key objectives, the allocation of resources in activities designed to effectively manage risks, the designation of people responsible for key tasks, and the development of strategies to ensure continual improvement of systems and processes among other things.
ISO 14971 is not a requirement of ISO 13485, but …
Section 7.1 of ISO 13485, the medical device management system standard, has a Note that states: 'Further information can be found in ISO 14971.' THEREFORE, the ISO 14971 Standard is not a requirement of ISO 13485; it's not even given the status of a Guideline. How do you meet the requirement of ISO 13485 that 'The organisation shall document one or more processes for risk management in product realization.'?
There are two key issues to note here …
1. The threats to be treated here are risks to the user and/or patient safety, not a component failure or failure of a process activity to function as intended.
2. Almost without exception, organisations certified to ISO 13485 choose to include ISO 14971 in their QMS.
See also ISO 14971 Risk Management; 12 FAQs answered. And ISO 13485 requires Risk Management and Risk-based Thinking.
How Can I Enroll in an ISO 14971 Training Course?
Just examine these ISO 14971 Courses. Click on the course you are interested in to see their individual overviews.
Related Articles
---
deGRANDSON Global is an ISO Certified Educational Organization
In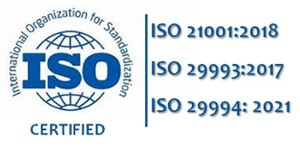 October 2021, we secured certification to three education-related ISO Standards. As a result, we now have a university-grade management system conforming to the requirements of …
We have chosen ISO 21001 certification because, unlike IRCA and Exemplar badges (which we believe are commercially compromised), it is based on independent third-party assessment. In addition, it is a 'university grade' standard in use globally by schools, colleges, and universities to demonstrate their competence.