Expect a different and superior experience with our Courses
deGRANDSON offers world-class tuition, internationally-recognized certification, and budget-friendly pricing. Here are some of the features of our Courses...
We offer genuine e-Learning Courses so you enjoy...
Course delivered in your favorite browser. Choose any operating system and browser combination you favor, and our responsive Courses are instantly available. No software or Lessons need to be downloaded.
On-demand Tuition - times and places of your choosing with no fixed date or time
Self-paced Lessons - Speed through to review the topics you understand well but take your time, and repeat as you wish, sections that are new or challenging. No videos or talking heads to bore you to distraction.
Free 24/7 Tutor Support - Should you have any questions, you can raise a Support Ticket and get expert advice on any or every aspect of your Course.
Lessons are delivered in a choice of media - each Lesson is a progressive series of screens with matching audit and/or subtitles/closed caption text.
Lesson delivered using methods suited to adult learning, including tuition, FAQs, and quizzes.
Certificates with QR Codes: You can instantly verify your qualification to a potential client or employer using the codes.
ISO 21001, ISO 29993, and ISO 29994 Accreditation: We've had ISO 21001 accreditation as an Educational Organization with additional e-learning services since 2021. Awarded by BQAI, an accredited Certification Body, our ongoing compliance is confirmed by an independent third-party audit every year.
What then of our ISO 9001 Courses?
What is the purpose of ISO 9001?
ISO 9001 (or, to give it its full title ISO 9001:2015, Quality management systems - requirements) is an internationally recognized standard that sets out the requirement for an ISO Quality Management System (QMS).
It was initially developed by the British Standards Institute and is known as BS 5750. It became an international standard in 1991 when published under the auspices of the International Standards Organization (ISO).
While originally product-focused (and mainly of interest to manufacturing businesses), it has evolved through several iterations into a standard focused on managing the processes that make up an organization's activities. As such, it is now globally applicable to all kinds of organizations.
The purpose of the Standard is to provide a framework for an organization to develop a management system that will …
Consistently meet customer requirements, that is, consistently provide a product or service that meets specification or other agreed/recognized criteria, and
Enhance customer satisfaction

through continual improvement of the management system.
Fundamental to fulfilling achieving these objectives are two features …
A

Quality Policy

- the intentions and direction of an organization as formally expressed by its top management and consistent with the

context of the organization, and
Quality Objectives

– measurable targets, generally specified for relevant organizational functions, levels, and processes – focused on improvements.
External Auditors will persistently pay great attention to these four issues.
For more, visit ISO 9000, Quality management systems – Fundamentals and vocabulary
ISO 9001 Auditor Training is not mandatory! But untrained means unprepared
A course in quality management for a Management Representative or others with day-to-day responsibility to maintain a QMS is optional. Training is implied as part of developing competence but not a specific stand-alone requirement.
Training is also optional for internal auditors. However, effective internal audits are essential to doing a professional job in maintaining your QMS, preparing for Certification Body audit, and continuously improving your organization's quality processes.
However, ISO 9001 requires the competence of all personnel whose work affects quality, including a course in quality management systems and auditing for audit program managers and internal auditors.
How Can I Enroll in an ISO 9001 Training Course?
Just examine this ISO 9001 Courses image map. Click on any course you are interested in to see their individual overviews.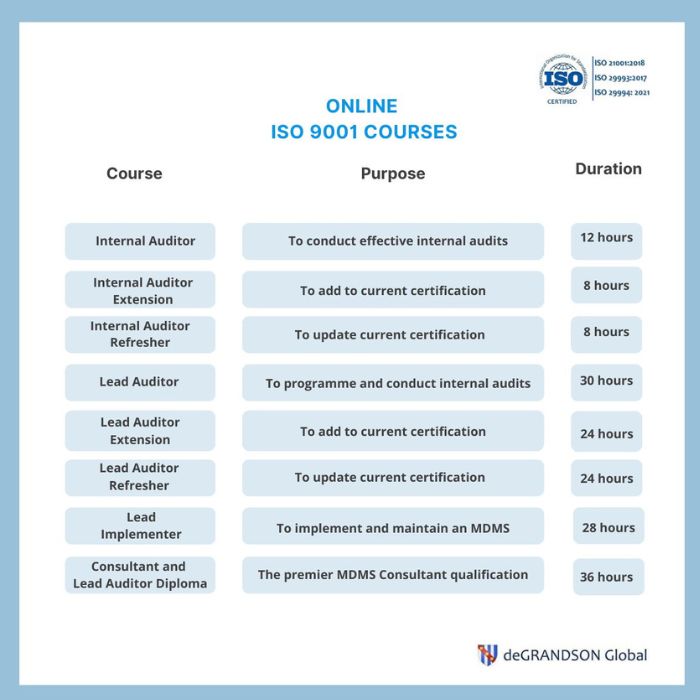 ISO 9001 image map. Click on any course you are interested in to see their overviews.
Related Articles
---
deGRANDSON Global is an ISO Certified Educational Organization
In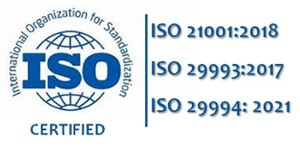 October 2021, we secured certification to three education-related ISO Standards. As a result, we now have a university-grade management system conforming to the requirements of …
We have chosen ISO 21001 certification because it is based on independent third-party assessment, unlike IRCA and Exemplar badges (which we believe are commercially compromised). In addition, it is a 'university grade' standard in use globally by schools, colleges, and universities to demonstrate their competence.