All our e-Training Courses include extensive Scenario Modules
The many short-and long-term -scenarios presented are unique to e-learning with deGRANDSON Global. Altogether, they help bridge the void between theory learned in a classroom-like situation and the practice, and challenge, of face-to-face auditing. You get the opportunity to practice what you've learned before engaging in a 'real' Audit.

To be blunt: they help you to avoid embarrassing yourself!
The focus in the Scenario Modules, which can most effectively be delivered with ISO training online, is:
To apply what you've learned
To get experience with some of the real difficulties that arise during audits
To get practice in the application of each of the Clauses of the Standard you are studying
To help you develop and improve your auditing skills.
All Scenario Courses are divided into three parts, namely,
Short Scenarios and other Exercises
Scenarios with dialogue
FAQs - application of your new Skills and Knowledge
Read on to learn more.
---
Table of Contents
---
ISO 13485:2016 Training Sample Scenario
Here we:
a) have an audit scene described and
b) are asked to make a finding from the seven choices offered (based on the ISO 13485:2016 in this case).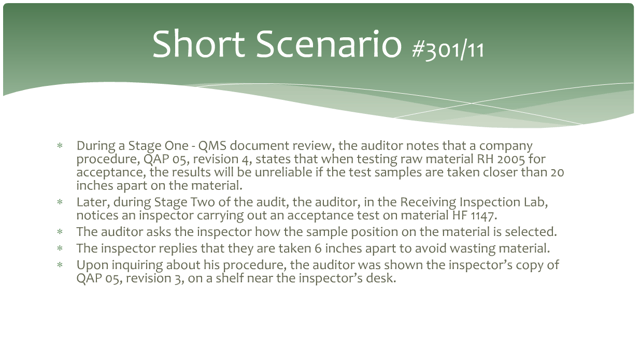 ISO 13485:2016 Training Sample Question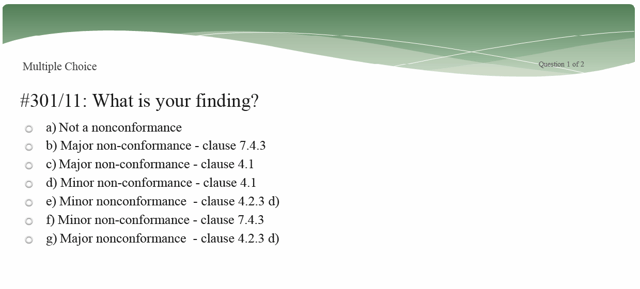 Scenarios with dialogue
With these, you are presented with a multi-page scenario. The example below is just one page from a 6-page scene. You are asked to identify all the non-compliances and to avoid all the 'red herrings', that is, those situations that at first glance look like non-compliances but in fact are not.
Nothing undermines the reputation of an auditor more than findings in an Audit Report that are wrong!
ISO 45001 Training Sample Scenario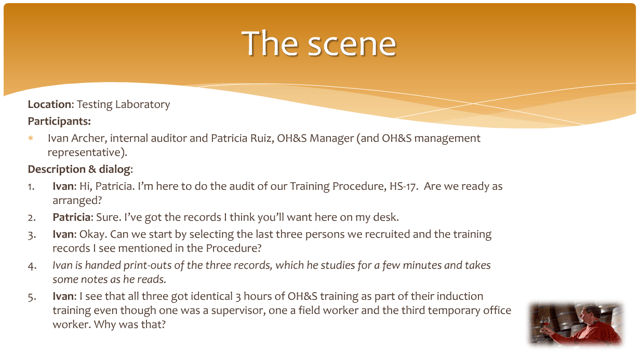 Sample Questions to Demonstrate Your New Skills and Knowledge
This is the final part of the Scenarios where questions typically asked by newly Trained Auditors are answered. They go from technically complex ones (say, about the relationship between a Certification Body, an Accreditation Board and the Auditee and pertinent to a Lead Auditor) to very simple ones. The example here is directed towards Internal Auditors: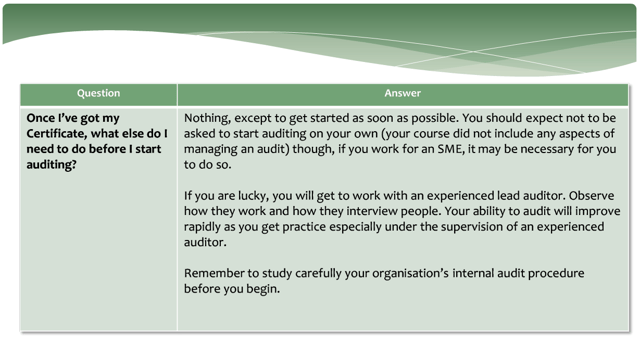 Scenario Modules and filling in the missing piece of the jigsaw
The Scenario Modules, which are included in all of our ISO Auditor Training online, provide the one thing that's mostly missing from conventional classroom-based Courses - the time to practice what you've learned based on realistic examples and to ask the questions you'd like to ask.
Why Training & Development Managers Like Us
WE PROVIDE...
YOU LIKE IT BECAUSE...
1
Start training your Auditors today!

Self-paced learning: Fit course around your busy schedule. Complete the course as time allows. Study anywhere/anytime you have broadband access – at work, at home and while travelling (with Wi-fi).

Delivery at a time and place of your choosing. Our courses can be delivered in a formal training environment or can be taken as a self-study course as and when time and other resources allow.

Accessible worldwide on the internet

Platform independent – any Windows or Apple OS on any PC Workstation or other desktop, notebook, tablet or other handheld devices with access to the internet - can access all features.

2
In-company Courses with no minimum number of learners

A deterrent to running in-company courses is that it is often difficult to find a sufficient number of Learners to justify the cost. No problem! Just use your own Training Room with a minimum of one Learner (see item 3)

3
Use in Training Room environment

In any training room with internet access you can enjoy the benefits of a disciplined approach – set a schedule to ensure learners devote uninterrupted, quality time to their auditor training.

Courses published in both SWF and HTML5 formats: During a Lesson, you can switch from one device to another.

Say, you start a Lesson on your PC at work. You can continue the Lesson, from where you stopped, on a tablet device on the bus or train home and then finish it on your Notebook after dinner.

4
Courses delivered through established LMS service

No software installation is needed: You can log into your course on any internet browser (Internet Explorer, Firefox, etc.). So anytime, anywhere when you have some quiet time, you can use your PC, Notebook, Tablet or similar device to continue your e-learning course.

We use an award-winning LMS service to deliver our courses for uninterrupted availability worldwide and a glitch-three service.

5
Integrate into your own LMS

Using the expertise of Inquisiq, our LMS service, we can integrate our Courses into your LMS. And incorporating your course credit system, logo, etc. if you wish.

6
Experiential learning-based Courses

Adults learn best by experiencing and understanding the significance of what they are learning.

This is the approach we use for all our Courses. Dozens of scenarios in each Course allow the Learner to participate in 'real' audits.

Experienced auditors will tell you that it is only by practising your audit skills that you really understand how to interpret and apply a Standard's requirements.

Multi-layered approach: The Learner builds up their knowledge and skill progressively, layer upon layer, as you go through the Course - a more rewarding experience for the effort put in.

And these audit experiences are built into our Courses.

7
Scalable Certification

Extend the Grade (Internal Auditor to Lead Auditor) and/or Scope (for example, add ISO 13485, ISO 27001 Standards) as and when you need them.

8
No Expiry Date

The validity of our Certificates is not limited. Auditor competency is not based on Certificates alone. Auditing is a practical skill, and it is a practice that builds and maintains competency.

Certificates do go out of date periodically when Standards change. Here we offer Conversion Courses and then re-issue Certificates for the new or revised Standard.

9
Inexpensive

A fraction of conventional course cost. Savings of up to 60% are common when travel and accommodation costs are considered. Additionally, there is a reduction in work time loss.

No examination charges: All of our courses incorporate certification examinations. There is no additional charge involved.

Certificates are available for printing instantly upon successfully completing the examinations.

10
Corporate Discounts

Discounts of up to 25% are available.

Contact info@degrandson.com for details.
---
Free ISO Auditor Training Lesson
Got 5 minutes to spare? If you want to experience the deGRANDSON approach to eLearning yourself, why not take a short Lesson and see for yourself what we have to offer.
In preparing the Sample Lesson we wanted...
To illustrate the ease of use of the multi-media style of instruction that we have developed,

To show the Intuitive way in which the Lesson is presented,

To provide an example of the structured nature of the Lesson, and

To demonstrate the professional standard of content and of presentation.
Check out our free sample lesson to try it for yourself or go ahead and browse our available ISO training and certification courses.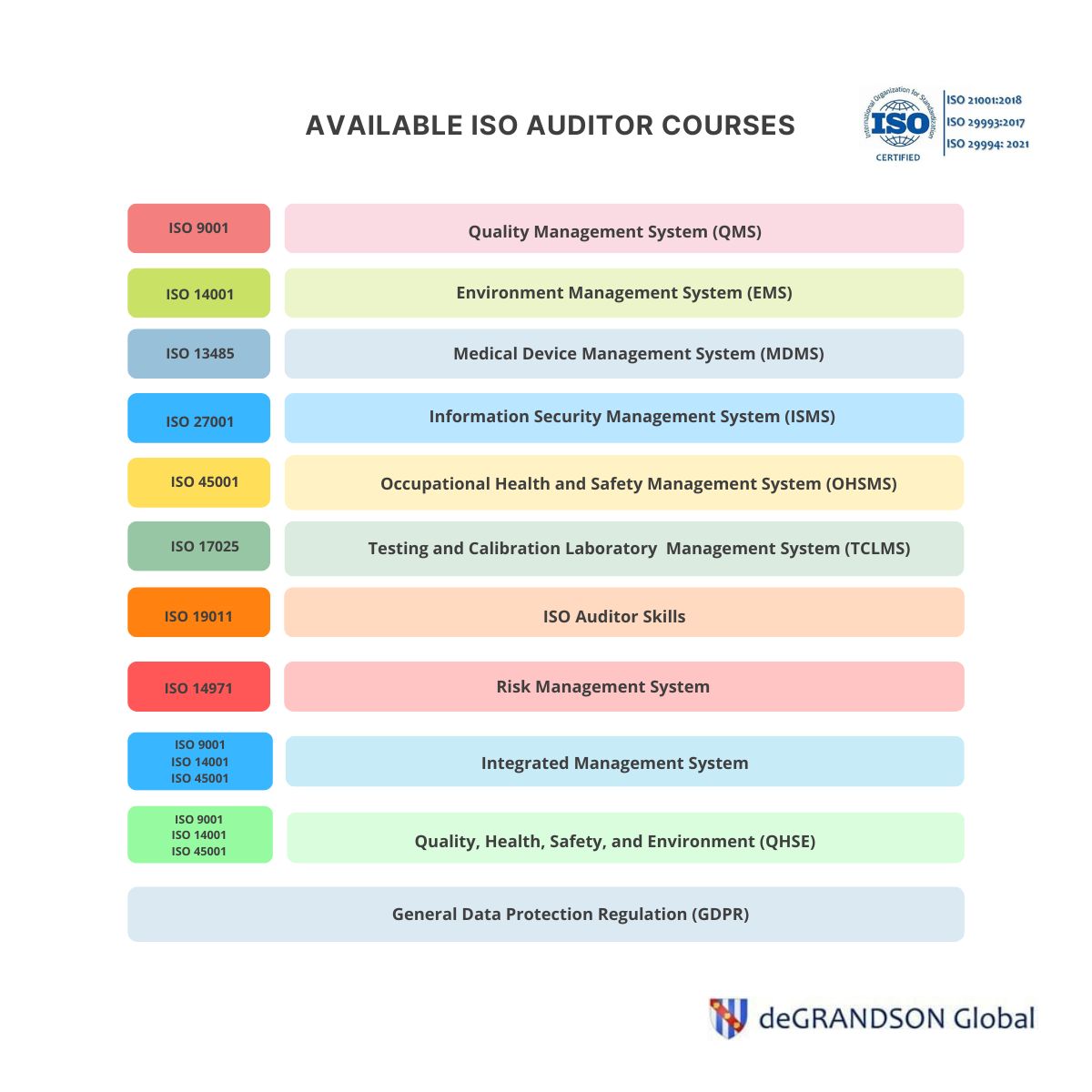 Available ISO Courses Image Map. Just click on any management system standard that you are interested in and you will be taken to their individual overview page where you can learn more about each online course.
Note: First published in July 2017; updated August 2021
Related Articles
---
deGRANDSON Global is an ISO Certified Educational Organization
In October 2021 we secured certification to three education-related ISO Standards. We now have a university-grade management system in place conforming to the requirements of …
We have chosen ISO 21001 certification because, unlike IRCA and Exemplar badges (which in our opinion are commercially compromised), it is based on independent third-party assessment. It is a 'university grade' standard in use globally by schools, colleges, and universities to demonstrate their competence.